On a crazy night in Trenton, A-Rod was 'the pink elephant in the room'
You never know with Alex Rodriguez, who is either about to be banned from baseball or ready to rejoin the Yankees. Friday was a crazy night.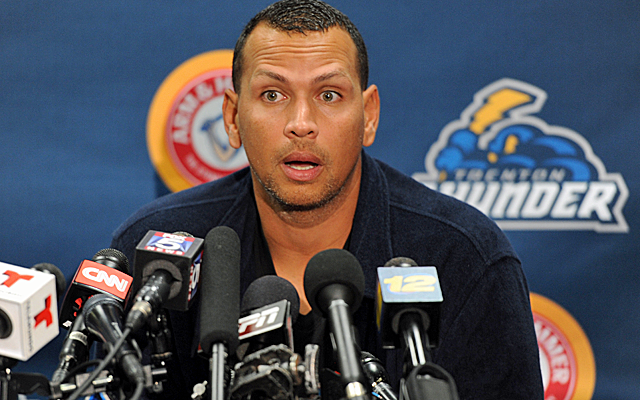 TRENTON, N.J. -- Alex Rodriguez says he's ready to play five more years.
Or was that five more innings? Or five more minutes?
It's always hard to know with A-Rod, and never harder than now, because even in the crazy world of A-Rod, there'd never before been a day like Friday.
He made it back to a minor-league field for the first time in nearly two weeks, and after blasting a long home run he declared himself "100 percent" ready to play in a major-league game for the first time in more than nine months.
All this while lawyers, fans and baseball officials decide whether he should ever be allowed to play again.
A-Rod, as usual, wouldn't directly answer questions about the Biogenesis investigation that threatens him, and even claimed not to know about the reported Sunday deadline MLB has set for the Biogenesis players to agree to suspensions. Colleague Jon Heyman reported Friday that MLB expects to announce the suspensions on Monday, but A-Rod told a packed postgame press conference in Trenton that he plans to play for the Yankees Monday night in Chicago.
"Unless I get hit by lightning," Rodriguez said. "These days, you never know."
He sure is right about that. These days, you never know.
Just when you think you might never see Alex Rodriguez step on a baseball field again, he shows up wearing a Trenton Thunder uniform and gives hints that he can still play.
Then he drops a big hint himself, suggesting that he believes that Yankees are working to get him banned to avoid paying the $95 million or so remaining on his ridiculous contract.
"I think that's the pink elephant in the room," A-Rod said, without ever naming the Yankees (or getting the cliché right).
Yes, that's A-Rod, the pink elephant in the room. He wonders why he's getting treated different from everyone else, and then he acts different from everyone else.
Out of nowhere Friday night, he hit that towering home run off Jesse Biddle, who is one of the Phillies' top prospects but has a little trouble with his fastball command. A-Rod found a fastball in the middle of the plate, and probably hit it into the middle of the road behind a four-tiered fence in left field.
Out of nowhere Friday, A-Rod dropped the hint about the Yankees trying to get him banned, and then followed it up by offering that what he really wants is to see baseball "get PEDs out of the game."
"There's a lot of layers to this," he said at one point during his press conference, another statement that it sure is hard to argue with.
His talk about believing he can play five more years would be a little tough to take even if Bud Selig and his lieutenants weren't so determined to try to keep him from playing even one more game. A-Rod turned 38 last week, and he's trying to come back from a second hip surgery.
There's no guarantee his body will be strong enough to let him play five more months, particularly without the substances baseball now believes it has strong evidence he's been using for years.
It's hard to know even how much he wants to play, no matter how many times he declares his love for the game. Everything A-Rod says these days, and everything his handlers put out through friendly members of the media, has to be seen through the prism of MLB's investigation and the negotiations that go along with it.
He told us Friday night that he will "follow the due process," and also that he will "keep fighting." He also told us that he has absolutely no health issues that will get in the way this time.
"I feel like I'm there, I'm ready to go, I'm 100 percent," he said. "I wish I was in San Diego [where the Yankees are playing]. I can't wait to see my teammates.
"I can help them be a better team, for sure."
He said that as much as he feels ready, he'll stick with the plan the Yankees set out for him -- no complaints, this time -- and play seven innings for the Double-A Thunder in another rehabilitation game Saturday night. He said he will work out Sunday morning, and get ready to join the Yankees in Chicago.
He said this isn't the last time we'll see him playing baseball, not even close.
"My body's beginning to react the right way," he said. "I'm prepared to play five more years, especially the way my body is reacting. I feel like I can play, play for a long time, and be productive."
So there you have it. He's going to play five more years.
Or was it five more minutes?
With Alex Rodriguez, you never know.