On Virginia Tech anniversary, Granderson remembers a fan
Brian Bluhm was a huge Tigers fan, and a huge Curtis Granderson fan. He was also one of the victims at Virginia Tech. Five years later, Granderson is keeping his memory alive.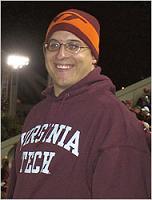 Brian Bluhm was a lot like you.
He loved baseball. He loved talking about baseball. He followed his favorite team and his favorite players, and if there was a chat on the internet, he took part.
He was a Tiger fan, and he was a
Curtis Granderson
fan. Five years ago, when Bluhm was one of the victims in the Virginia Tech shooting, Granderson was still the
Tigers
center fielder.
In the hours after the shooting,
I heard Bluhm's story
from other Tiger fans who knew him through chats and posts on the web. I covered the Tigers then for Booth Newspapers, and I remembered Brian from the intelligent questions he would ask.
Granderson heard about him, too.
Like me, and like so many of Brian's Tiger friends from the internet, Granderson never met Bluhm in person. Like me, and like so many others, he remembered Bluhm through emails.
In the years since, Granderson has met Bluhm's family, and has worked to keep Bluhm's memory alive.
Monday morning, on the fifth anniversary of the shooting, Granderson posted Bluhm's picture on
his Twitter account.
He announced that he'll remember Bluhm with a special pair of cleats and a wristband that he'll wear in Monday night's game against the
Twins
.
It's easy to think that players don't notice their fans, or that they don't care.
Granderson notices. He does care.
It's too bad that Brian Bluhm isn't still here to see it.
After acquiring Ian Kinsler and Zack Cozart in recent days, the Angels are trending upward

Cozart's coming off a big season as the Reds' shortstop

The veteran slugger spent the last eight seasons with Cleveland
The Padres may be poised for an active winter

Yes, Bryce Harper is going to make a lot of money next winter

Outfield prospect Clint Frazier might be part of the talks