One more time, Cards come through in October, return to the NLCS
The Cardinals have had plenty of nights like Wednesday, and plenty of decisive games that turned out like Game 5 of the Division Series against the Pirates. Now they're headed back to the NLCS, against the Dodgers.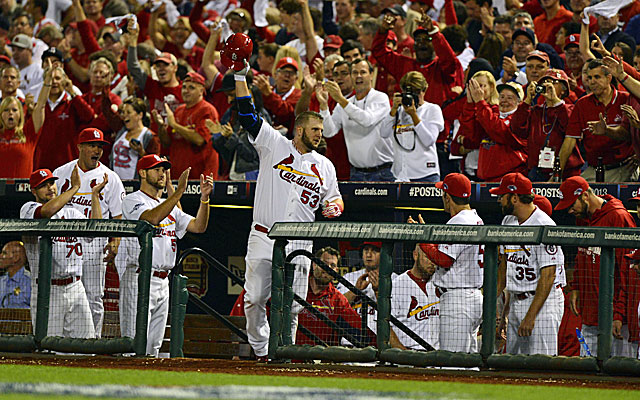 ST. LOUIS -- The names aren't new, and the story isn't, either.
The Cardinals didn't go worst to first, and they didn't come out of nowhere. They've done this before, and we all remember it.
They do, too, and maybe that's why they do this so well. Maybe that's why in games like this, winner-take-all games like Wednesday's Game 5 of their Division Series against the Pirates, the Cardinals are so often the ones jumping around in the middle of the infield when it's over.
They did it again Wednesday, just as they have so many times in so many recent Octobers, and now they're headed to the National League Championship Series again, with Game 1 against the Dodgers scheduled for Friday night at Busch Stadium.
The Pirates were a great new story, and their crazy-loud fans left a lasting memory on this postseason. They showed that they fully belonged on this stage, and rookie starter Gerrit Cole showed it, too.
Adam Wainwright was just a little better. The Cardinals were just a little better -- as they have been so often in so many big games in so many recent Octobers.
We've seen this show before, against the Nationals last year or against the Phillies the year before. We've seen it, because the Cardinals have made a habit of it.
They're headed to the National League Championship Series for the eighth time in the last 14 years. No team in either league has gotten this far, this frequently, that often.
Young starters in huge games have been all the rage this week, but the Cardinals beat the Pirates in Game 5 because the 32-year-old Wainwright was at his steady best. Wainwright jokes about how good all the kids are ("When I was 22, I was terrible"), but he's been real good in real big games for quite a while now.
True, he didn't do well in Game 5 last year in Washington, but the Cardinals won that game, anyway. They're now 7-1 in winner-take-all games over the last 10 years, and 8-1 over the last three years in games where their own season could end.
So yeah, they've had nights like this before. Wainwright has, too. And David Freese, the MVP of the 2011 World Series, whose two-run home run gave the Cardinals a second-inning lead Wednesday night against Cole.
Wainwright gave up eight hits in his complete-game win, but even that is misleading. Three of the hits came in the seventh inning and none of them left the infield, leading to the only run that Wainwright allowed.
It was a disappointing end to what has been a magical season for the Pirates, but eventually the Pirates' memories of 2013 will be dominated by how much went right and how much was fun, and not by how bad the final game turned out.
The Cardinals know the feeling, even if they haven't had to taste it often. Get to this point year after year, and you'll have a few that don't turn out right.
The Cardinals have had so many more of these games that turned out exactly like Wednesday's, so many that ended with celebrations and champagne and another step forward while another opponent went home.
We grasp for the new story, and we marvel at the new teams, but this Cardinals' run of success deserves a chapter of its own.
The Pirates recently shipped Gerrit Cole and Andrew McCutchen to Houston and San Francisco,...

Surely, Martinez and his agent are holding out for more

The reliever had a very good 2017 season with the NL Central champs
We don't need to discuss Chipper's Hall of Fame case, so let's have fun instead

Dioner Navarro still hopes to return someday

Christian Yelich's agent says his client's relationship with Marlins is 'irretrievably bro...