Only in Minnesota: Three 90-loss seasons, and Gardenhire survives
Ron Gardenhire is well-regarded as a manager, but no matter how highly regarded, few managers can survive three straight 90-loss seasons. Gardenhire just did.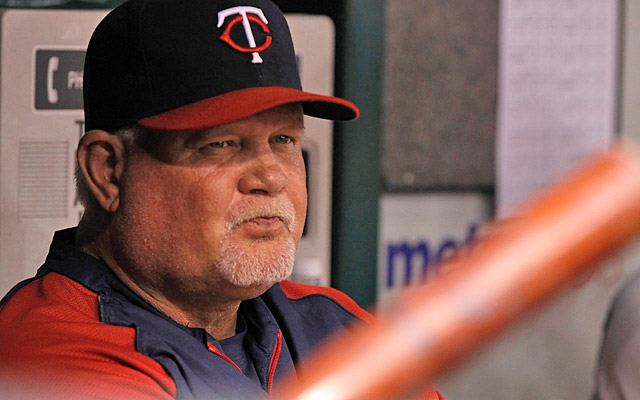 No team values stability like the Twins.
Tom Kelly once survived four straight 90-loss seasons with the Twins. Ron Gardenhire just survived three.
Few managers elsewhere can survive more than one.
It's different in Minnesota, where only Kelly and Gardenhire have managed the Twins since Kelly replaced Ray Miller late in the 1986 season. The Marlins didn't even begin play until seven years later, and they're already on their 10th manager.
No Marlins manager yet has survived even four full seasons, no matter what his record. Kelly managed the Twins for 15 full seasons, and Gardenhire has made it through 12 since taking over in 2002.
That's not to say he shouldn't have, or that the Twins made a mistake when they announced Monday that Gardenhire has signed a new two-year contract. Gardenhire won six division titles in his first nine years with the Twins, and the lack of success the past three years has a lot more to do with a lack of talent on the field than with the guy writing out the overmatched lineups.
"I think he's one of the better managers in the game," Indians manager Terry Francona said over the weekend. "And I think other managers would say the same."
Good or not, few managers can survive losing year after year.
Over the past 50 years, the only non-Twins, non-expansion managers who made it through three straight 90-loss seasons and were invited back for a fourth were Felipe Alou with the Expos and Joe Torre with the Mets. Alou was fired 53 games into that fourth season, while Torre made it all the way through the fourth year before losing his job.
Yes, it's different in Minnesota. But even there, Gardenhire apparently had to wait until the day the season ended before the Twins told him they definitely wanted him back. As recently as Saturday, he was saying he didn't know how his end-of-season meeting with Ryan would go.
There was speculation that the Twins would offer Gardenhire only a one-year extension, or that they would demand further changes in his coaching staff. Neither of those things happened.
The coaches were an issue last year, and when the Twins overhauled Gardenhire's staff last winter, it seemed (as colleague Scott Miller wrote in spring training) that general manager Terry Ryan had put his manager on double-secret probation.
Gardenhire seemed more energized this year, even as the Twins lost 96 games (exactly the same number they lost in 2012). Even over the weekend, when Gardenhire said he didn't know his fate and his team was in the process of losing 10 of 11 (costing Gardenhire a chance at his 1,000th win), the manager looked at ease and at the same time optimistic that the Twins will get things right.
Their farm system had a good year, with strong position talent on the way. Pitching looks to be more of a problem, but Ryan understands that. The general manager, himself a Twins employee since 1986, said several times over the past month that he blamed himself and the organization for giving Gardenhire a team that didn't have enough talent to win.
But that's true in plenty of situations where teams lose year after year. More often than not, the manager isn't the one who deserves the most blame.
He's just the one who loses his job.
Just not in Minnesota.
The Nats will host the All-Star Game in 2018

The Orioles are looking to trade Machado heading into his walk year

The Cardinals have been linked for a while to the Baltimore star
Gallardo spent the first eight years of his career in Milwaukee

MLB revenues are at a record high right now, but teams aren't spending it on players

Chicago added Tyler Chatwood earlier this offseason but might not be done adding to the ro...