Opening day recap: Kershaw's gem highlights the first full day of games
The first full day of baseball in 2013 brought a lot of highlights and memorable moments, so here's a recap of the action.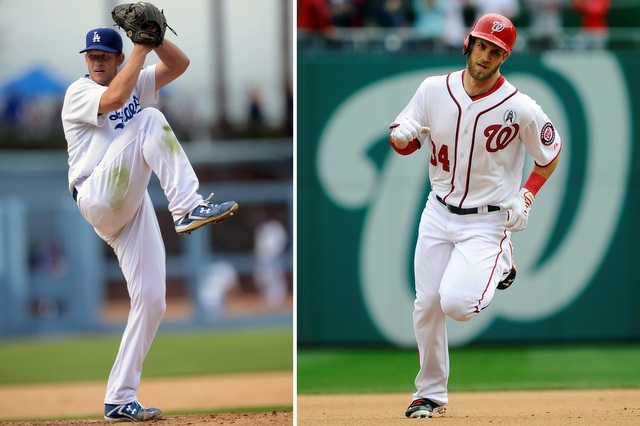 More MLB: Scoreboard | Standings | Probable Pitchers | Sortable Stats | Odds
Although the 2013 season officially started on Sunday night, Monday was the first full slate games and boy was it fun. We had some great pitching performances, some dynamite offensive showings, and star players doing star player things. Here's a recap of opening day's most notable acts:
Best Individual Pitching Performance: Clayton Kershaw, Dodgers
There were a number of pitching gems on Monday, but Kershaw was the only pitcher to throw a complete-game shutout. He did it in style too -- seven strikeouts, no walks and only four singles allowed on 94 pitches across nine innings. Seriously, I thought the Dodgers were going to send him to the bullpen after the game to make sure he got enough work in like a spring training game. If Kershaw threw you a slider on Monday and you swung at it, there was a 47% chance you missed. Just an insane whiff rate. Kershaw dominated the reigning World Champs and was the best pitcher on the mound on Monday, and that doesn't even include the go-ahead solo homer he hit off George Kontos.
Honorable Mention: Jeff Samardzija, Cubs. Shark allowed two hits and one walk in eight scoreless innings, striking out nine.
---
Best Individual Hitting Performance: Bryce Harper, Nationals
Harper, the 20-year-old Washington wunderkind, opened his sophomore campaign with two homers in his first two at-bats. The first came on a hanging breaking ball, the second on an unfortunately placed fastball in the lower third of the zone. My NL MVP pick started the season on the right foot, scoring and driving in his team's only two runs in the shutout win over the lowly Marlins.
Honorable Mention: Chase Utley, Phillies and Gerardo Parra, Diamondbacks. Utley went 3-for-5 with a triple and a homer in his first healthy opening day since 2010 while Parra went 4-for-5 with three doubles.
---
Best Team Pitching Performance: Los Angeles Angels of Anaheim
The Halos are most notable for their thunderous offense, which features Mike Trout at leadoff and the duo of Albert Pujols and Josh Hamilton in the middle of the order. Instead, it was the pitching staff that carried the club on Monday, as Jered Weaver and six different relievers held the high-powered Reds lineup to three hits and one run in 13 innings. Cincinnati had just one hit in the final ten innings, and only one of the final 21 men they sent to the plate reached base on something other than an error or intentional walk. The Angels' staff struck out 13 and recorded 14 other outs on the ground.
Honorable Mention: Seattle Mariners. Felix Hernandez and a trio of relievers limited the Athletics to three hits in a shutout win.
---
Best Team Hitting Performance: Atlanta Braves
The Mets and Red Sox scored more runs, but the Braves get the nod because of the way they scored. Atlanta picked up ten hits against the Phillies including six for extra bases -- three doubles (Andrelton Simmons, Gerald Laird, Chris Johnson) and three homers (Justin Upton, Dan Uggla, Freddie Freeman). Their souped-up offense provided the intended results, meaning lots of power and lots of runs. The Braves were not shooting ground balls through holes or watching bloops dunk it, they were doing serious damage.
Honorable Mention: Boston Red Sox. Boston's rebuilt lineup scored eight runs on 13 hits and eight walks on Monday.
---
Notables: On Saturday I said the Samardzija-A.J. Burnett matchup had the most "wow" potential of the opening day pitching matchups, and sure enough they combined to strike out 19 men in 13 2/3 innings ... Red Sox rookie Jackie Bradley Jr. went 0-for-2 with three walks, two runs scored and an RBI in his big league debut ... Stephen Strasburg (seven innings) and King Felix (7 2/3 innings) both allowed three hits in their scoreless starts ... Six different Mets had a two-hit game, including starting pitcher Jon Niese ... Justin Verlander had a decidedly un-Verlander-like start, throwing only five innings and 91 pitches. Manager Jim Leyland gave him a half-day off, I guess.
Several teams are interested in the switch-hitting first baseman

Neshek and the Phillies are closing on a two-year contract

And the team that first drafted Cole is interested
This scout was SUPER into Jeter

Stanton warned Marlins fans about the lean years that are forthcoming

The World Series champions aren't complacent