Optimism for Tigers on Cabrera deal after Scherzer talks fall through
Detroit fell short with its $144 million, six-year offer to Max Scherzer but is talking to Miguel Cabrera. There's much more hope to get something done in that case.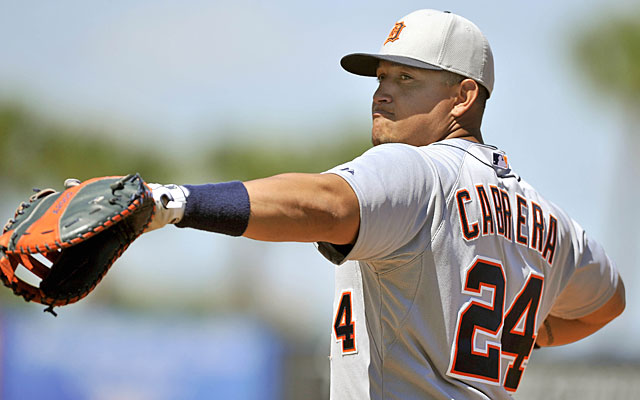 More MLB: Spring training coverage | 2014 team previews
BRADENTON, Fla. -- While the Detroit Tigers weren't able to lock up American League Cy Young winner Max Scherzer to a long-term contract, word is there is some early optimism in contract talks that have begun between Detroit and two-time MVP Miguel Cabrera.
Part of the hopefulness may come from long-term relationships established between Cabrera, Tigers president and general manager Dave Dombrowski and most of his top executive staff, who signed Cabrera originally with the Marlins and have been with him for the vast majority of his career. But since talks have begun, it doesn't appear that hope has dissipated. The Tigers have not been saying anything publicly regarding the Cabrera talks, as is their usual way.
The Tigers generally have done a terrific job procuring and keeping their best players, though Cabrera won't come cheaply. He should probably expect to become the highest-paid position player in the game, breaking Alex Rodriguez's $27.5 million record for average salary, though it would seem to be a stretch to think he could duplicate the 10-year deals of A-Rod, Albert Pujols and Robinson Cano assuming he stays in Detroit. Those other deals were all free-agent deals.
While Cabrera has two more years before he can become a free agent, there may be a bit of extra pressure to retain him following the failed talks with Scherzer. The righty exchanged contract proposals with the Tigers, with neither accepting the other's offer before the Tigers announced they would concentrate on the season in that case, meaning he'll be a free agent after the year, as scheduled. Sources confirm that Detroit's offer was $144 million guaranteed for six years, as first reported by Jon Morosi of FoxSports.com. The offer also is said to have included kickers that could have raised the pay.
Scherzer's side is said to have suggested to the Tigers that that is an "old market" price, and that the new market includes the Yankees' $175 million outlay for Masahiro Tanaka and the Dodgers' $215 million, seven-year deal with two-time Cy Young winner Clayton Kershaw. Scherzer would seem interested in being closer to $200 million based on those deals.
While Detroit's offer was serious -- they called it a "substantial long-term extension offer that would have placed him among the highest-paid pitchers in baseball" -- one rival general manager said he figured it was light considering Scherzer's dominating 2013 season. "How can they expect to pay him less than Tanaka cost?" that executive said. (Tanaka cost the Yankees $175 million, between his $155 million contract for seven years and the $20 million posting fee.)
The Tigers are reluctant to go beyond their seven-year, $180 million commitment to Justin Verlander. Verlander received a $140 million, five-year extension at the end of last spring when he had two years to go at $40 million, to become the highest paid pitcher at the time with the $180 million total. Scherzer, at 29, is slightly younger than the 31-year-old Verlander.
After the Tigers issued their statement outlining their efforts to keep Scherzer, agent Scott Boras issued his own statement with the opposite message, saying, "Max Scherzer made the Tigers an offer that Detroit rejected. Max is happy in Detroit, he likes his teammates and he's happy to play there." Scherzer wanted to make sure Tigers fans thought he was not eager to leave a team where he has become a star.
The same could be said for Cabrera, who showed his love for Detroit with his first deal, and has thrived there since. Cabrera signed for $152 million over eight years not too long after arriving in Detroit via trade with the Marlins, and he has been terrific for them, both on and off the field after an early mishap. There is a bond between Cabrera, who is a terrific clubhouse presence, and many of the Tigers people, including assistant GM Al Avila and many others who came with Dombrowski from Miami.
Cabrera, 30,  had 44 home runs, 137 RBI and led the AL with a .348 average last year in winning his second straight MVP. He also led the league with a .442 on-base percentage, a .636 slugging percentage and a 1.078 OPS.
Mark Appel was one of the players being moved about on Monday night

Garrett Cooper is the answer to a trivia question

We still don't know if Ohtani will be jumping to the majors yet
Kinsler is a free agent next winter

Opening Day will be Thursday, March 29 -- the earliest opening day in MLB history

The World Series champion and big-time wrestling fan was on hand Sunday night