Orioles are back for more, and don't dare doubt them
This is a confident young Baltimore team, and with good reason. They're out to prove 2012 was no fluke. And they will.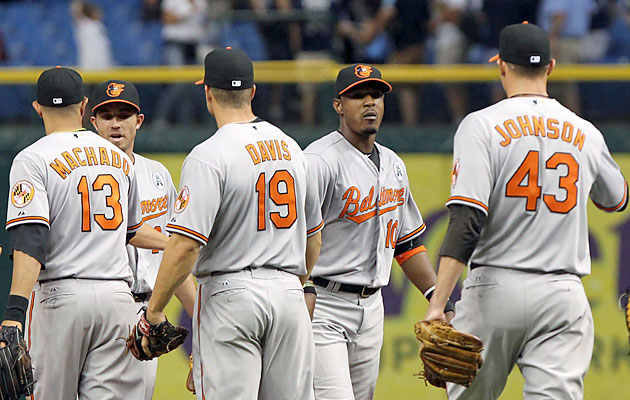 ST. PETERSBURG, Fla. -- The Baltimore Orioles might finally be tiring of trying to convince us all that they are no fluke, that they didn't go an ungodly 29-9 in one-run games in a magical 2012 season due only to good fortune. Or win 16 consecutive extra-inning games because Peter Angelos sleeps with a four-leaf clover. Or take a much healthier, younger version of the New York Yankees to a Game 5 in the ALDS due to Buck luck, or anything like that.
"We don't care what anyone thinks," Orioles star Adam Jones replied pointedly in answer to a question about whether they can repeat what's widely seen elsewhere as the Orioles 2012 miracle. "Does that answer that?"
The defiant Orioles might care more than they let on. But they also know that now is the time to demonstrate they truly are a deep and talented team, not just a fortunate one. After their 7-4 opening day victory here on Tuesday, they have 161 more chances to show what they're made of. That's the way they see it.
After an offseason of hearing about how fortunate they were to win so many games last season, and how unfortunate they were not to come up with the top starting pitcher and middle-of-the-order hitter they allegedly so desperately need, they are finally back using their bats and gloves to prove their point. And there can't be a much better start than coming into a sold-out Trop, wearing down 2012 AL Cy Young winner David Price , rocking the Tampa Bay Rays bullpen and beating Tampa Bay, a fashionable pick for the 2013 World Series.
"I think we all just feel in-house that we have the ability," Chris Davis said. "We're very confident with the group we have."
The Orioles are the same team as last year, only healthier and better. And maybe with a chip on their shoulder.
Speaking of which, Davis didn't seem like he took too kindly to seeing the Rays intentionally walk the scary switch-hitting Matt Wieters , who was already killing the Rays, to turn loose the fireballing left-hander Jake McGee against him in the defining seventh inning. How do we know? Davis took McGee's first pitch, a high 90s fastball, and smoked it into the right-field pavilion for a three-run homer, ensuring that the Orioles would win the opener.
The Orioles are not only a very good team, they didn't need to add a top-of-the-rotation starter or middle-of-the-order bat to make them a contender. If they are better this year -- and they just might be -- it could be because of the man-hours they missed last year en route to their shocking playoff run and appearance.
Brian Roberts and Nolan Reimold each had two hits in the opener. Last year, they were rarely seen on the field. Roberts, with continuing concussion issues, missed 150 games. Reimold, with a neck injury, missed 145.
There's a list floating around among Orioles people to remind folks of what they missed last year, and what they have back this year. Counting all the guys who were either unsigned, unpromoted or unhealthy, some of the rest of the names on the games missed list are Nate McLouth (106), Jason Hammel (72), Miguel Gonzalez (68) and Nick Markakis (64).
If most or all of those fellows are available a lot more, they are way ahead of the game, and there will be no recriminations about missing out on a long list of winter targets. Orioles people didn't love the free-agent list (and let's face it, they've stayed away from the big free-agent game since getting burned a few times years ago). So they hit the trade market, and still came up empty.
They tried for R.A. Dickey (word is, Buck Showalter really liked the idea of him). They looked at Justin Upton, Jason Kubel and Wil Myers.
However, word is the New York Mets sought top pitching prospect Kevin Gausman and third-base stud Manny Machado for Dickey. And the Kansas City Royals wanted Gausman or big-time pitching prospect Dylan Bundy plus another for Myers.
General manager Dan Duquette wasn't about to trade their top young players. So they did look at at least a couple free agents -- Adam LaRoche and Kyle Lohse. But ultimately, they didn't want to give up their first-round draft pick, No. 25. Duquette is a big believer in the draft, and they have four of the 100 coming this June.
So they'll rely on returnees to take them to the next level, at least for now, and Roberts and Reimold, two nice comeback stories, carry the potential to make an impact for them. Orioles people wondered whether Reimold's career was in jeopardy after neck surgery that took him out of action almost all last year. And Roberts, well, everyone had to believe there was a chance he'd never make it back after all these years.
Reimold's neck pain moved from his left side to his right this spring, when he had trouble throwing. But Roberts finally seemed fully healed.
"It was fun," Roberts declared after gathering two singles from the new No. 9 hole (he doesn't mind that spot, he's just happy to be a player again). "I always knew how fun baseball was."
Hammel, the former Ray who always saw The Trop as his house of horrors, missed a lot of time, too, though his knee trouble wasn't in the career-threatening territory of the other two. And while he isn't a true No. 1 pitcher, he will suffice.
Hammel gutted out six innings on opening Day, getting the win while thanking his former mates for helping him by being overly aggressive and swinging at misfire after misfire. "Overall, I was pretty bad today," Hammel said. "They helped me out."
The Rays temporarily took the lead off Hasmel, putting up two runs in the sixth inning for a 3-2 lead just before Hammel departed. But then his teammates helped him even more, putting up a five spot in the top of the seventh. The first two came home on a Jones line double to left-center field, the final three on Davis' statement bomb.
"I can't blame them," Davis said of the intentional-walk insult. "They were playing matchup."
He won't blame them, but he was happy to put a dagger through them, as Jones said they all do when they receive the insult of the intentional pass to the man in front. In this case, you really can't blame Rays manager Joe Maddon, who had seen Wieters wear out his best.
Wieters had a two-run home run in the first inning off Price and a line double, but it may have been his 13-pitch at-bat that was the most impressive work he did. It helped wear down Price, who made it through six innings, barely, before turning it over to the bullpen. Showalter called Wieters' long plate appearance a "game changer."
The Orioles didn't do much changing of their roster this winter.  Bringing back Nate McLouth for $2 million could be viewed as the big move, such as it was.
No matter, they didn't win 96 games last year because of a lucky penny or anything else like that. They have a nice nucleus, youth and a great manager. And they are for real.
"We are excited about what's going on in our clubhouse," Hammel said. "We barely changed the team. It's something we're proud of. It was one of 162 [today], but we're going to continue to have fun. We have our own expectations."
And they certainly don't line up with what outsiders think about the Orioles.
Maxwell joins a growing movement across sports

The Yankees punched their ticket to the playoffs with a win over the Blue Jays on Saturday

Sabathia's stance seems to be an increasingly popular one among athletes
Plus the A's and Brewers have hope, Giancarlo goes deep again, and much more

Matt Chapman and Matt Olson give the A's hope

Despite an awful month, the Dodgers are again NL West champions