Orioles clinch American League East championship
The Baltimore Orioles are your 2014 AL East champs.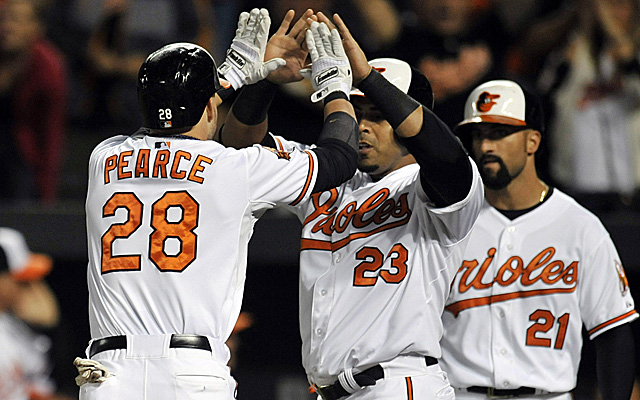 Though the Baltimore Orioles still have 11 games left in the 2014 season, they have clinched the American League East championship with a Tuesday night victory over Toronto in Baltimore's beautiful Camden Yards, 8-2.
The win Tuesday evening was pretty fitting for the Orioles. They got contributions from players who weren't expected to do so heading into the season and homered twice. Steve Pearce clubbed a three-run homer in the first and late-season acquisition Alejandro de Aza had a three-RBI triple to put the game away in the seventh.
This marks the first time since 1997 that the Orioles have won the division. Since MLB divided things up into six divisions, the Orioles have now won it three times -- 1996, 1997 and 2014. The Orioles did make the playoffs in 2012, but that was as the second AL wild card. That season, they won the wild-card game and took the Yankees to five games in the ALDS before being bounced.
After finishing 12 games out last season, the 2014 Orioles have run away with the AL East, holding a 13.5-game lead over the Blue Jays and Yankees.
It wasn't all easy. The Orioles were only one game over .500 on June 16, and trailed the Blue Jays by five games in the division. They got hot shortly thereafter and took over first place for good on July 5. They are now 39-18 since the All-Star break, too.
The Orioles have dealt with major injuries (Matt Wieters, Manny Machado) and a high-profile suspension (Chris Davis), but they've survived with power hitting, great defense, a balanced rotation and a very good bullpen.
This marks the second career division title for manager Buck Showalter, as he won the NL West with Arizona in 1999.
The Orioles appear headed for the second seed in the AL playoffs, meaning they'd host the AL Central champ in the Divisional Series round, a five-game series.
Bruce Maxwell of the A's has been kneeling during the national anthem

Iowa and Missouri are two programs mixing technology and analytics

Sunday's MLB roundup features the D-Backs clinching a postseason spot and the Mariners going...
The 2017 season has been, by far, the worst season of Cabrera's career

The Mariners were eliminated from postseason contention with Sunday's loss

Maxwell became the first MLB player to kneel during the national anthem Saturday