Orioles' Davis is hitting homers, but now they'll never let him pitch
Chris Davis hit 33 home runs for the Orioles last year, but his favorite game was the one where he pitched. Davis homered six times in the first nine games this year, which is great -- except now they'll never let him pitch again.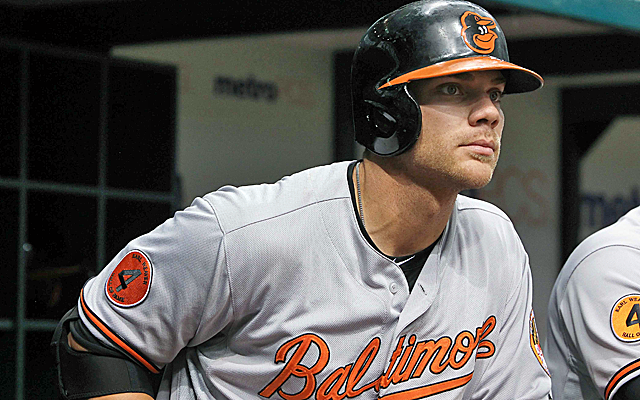 NEW YORK -- There's no way Chris Davis is going to complain about the success he's having in the early days of the season. There's no way the Orioles are going to complain.
But there is one potential problem: If they get to the 16th inning, who's going to pitch?
"He can't pitch anymore," teammate Adam Jones said Friday. "He's too valuable."
A year ago, no one was saying that. When the Orioles ran out of pitchers in a 17-inning game in May at Fenway Park, manager Buck Showalter chose Davis to pitch. He worked two scoreless innings and got the win, which gave the Orioles the best record in the American League and became a big moment in their surprise season.
At the time, Davis had played in 26 games. He had five home runs, 14 RBI.
He has played in 10 games this season. He has six home runs, 19 RBI.
"Somebody asked me the other day about letting him hit with a 3-0 count," Showalter said. "I'd let him hit 4-0, but they won't let you do that."
Davis is just the seventh player in major-league history to homer in six of his team's first nine games. He didn't hit a home run on Friday night at Yankee Stadium, so Luis Gonzalez of the 2001 Diamondbacks remains the only guy to homer in seven of the first 10.
Gonzalez, who hit a career-high 31 home runs the year before, went on to hit 57 in 2001. Davis hit a career-high 33 last year, the first time in five big-league seasons that anyone had given him 500 at-bats.
"That's really big, getting the chance to play every day," Davis said.
By playing every day, Davis got a chance to feel comfortable. He got a chance to learn how pitchers would attack him.
He also got a chance to hit when he was a little tired. You'd be surprised how much that helped.
"Once you get to 120, 130 games, you feel a little fatigued," Davis said. "But I was still able to drive the ball."
The lesson was an important one. Davis is a big, strong guy, but he sometimes had gone to the plate trying to put as much into every swing as possible.
"Now he's realized he doesn't have to swing with maximum effort to hit the ball out of the park," teammate Nate McLouth said. "When he hits them, he hits them as high as he does far. They're majestic."
The Orioles have enjoyed watching the show. Davis has enjoyed it, too.
He also knows there's no way they let him pitch again.
"I went from being the mop-up guy to being the guy who can't pitch because he's too valuable," he said.
McLouth contends that Davis would still call the game that he pitched in his favorite game ever. Davis doesn't dispute that, although he reminds you that he went 0 for 8 that day, with five strikeouts.
"It wasn't my favorite game for the first 15 innings," he said with a smile.
The Orioles loved that game. When it came time to negotiate Davis' 2013 contract, general manager Dan Duquette told Davis' agent that $5,000 was for pitching.
That leaves $3.295 million for hitting.
The way Davis is hitting now, it's a bargain.
Marcell Ozuna figures to be the next Marlins star on the move

Several relievers have signed in the last two days

Several teams are interested in the switch-hitting first baseman
Neshek and the Phillies are closing on a two-year contract

And the team that first drafted Cole is interested

This scout was SUPER into Jeter