Orioles' gamble on Ubaldo Jimenez unlikely to pay off
The Orioles have decided to sign Ubaldo Jimenez to a four-year deal, per reports. He's mostly been either average or terrible for the past four seasons.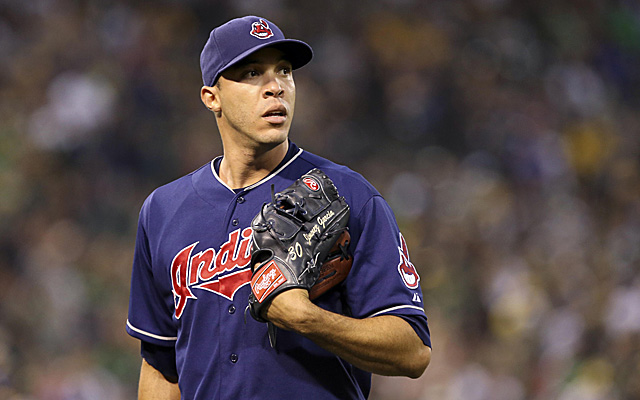 Related: Baltimore agrees to sign Jimenez, pending physical
Though reports indicate the Orioles have signed Ubaldo Jimenez for a similar deal to what the Twins gave Ricky Nolasco, I still can't get on board with a four-year deal for Jimenez. There's simply too much questionable -- or worse -- on his resume to believe he's going to help anchor the Orioles rotation in a positive way for the next four years.
Yes, Jimenez was outstanding in his last 12 starts last year and was one of the better pitchers in the majors in 2010, but everything else looks like someone who doesn't deserve more than a one-year, "show me what you can do" deal.
Even in that magical 2010 season -- in which he started the All-Star Game and finished third in Cy Young voting -- Jimenez wasn't great for the entire season. In his last 19 starts -- more than half a season! -- Jimenez was 6-7 with a 4.34 ERA and 1.29 WHIP. He followed that up by going 19-30 with a 5.03 ERA and 1.50 WHIP in 2011 and 2012 combined, making him one of the worst regular starters in all of baseball during those two seasons.
And then last year, prior to his hot finish, Jimenez was 7-5 with a 4.49 ERA and 1.50 WHIP through 20 starts.
So, essentially, what we're looking at with Jimenez is a pitcher who was lights out for 14 starts in 2010 and great for 12 starts to finish the 2013 season. Put those together and it's not even one full season. And otherwise, in the past four years, Jimenez has been anywhere from relatively average to downright dreadful.
The Orioles have attached themselves to Jimenez reportedly for four years at a around $12.5 million per season. He now gets to face the AL East on a regular basis. In small samples, sure, but Jimenez's numbers against the Yankees (6.45 ERA in four starts) and Red Sox (11.72 ERA in four starts) are brutal, too.
Now, we could try to spin this in a positive direction. Let's do so for a second.
•Jimenez was a very good groundball pitcher from 2008-11. Last season, he started to get back a bit to those groundball tendencies -- and now he'll have Manny Machado and J.J. Hardy playing stellar infield defense behind him.
•Last season, Jimenez posted the highest strikeout rate (9.56 K/9) of his career, too.
That's about all I can come up with. Again, the entirety of Jimenez's upside can be seen in 26 kind of cherry-picked starts from 2010 and 2013. And his velocity has tumbled several miles per hour since his unbelievable stretch in 2010. Check it out, via brooksbaseball.net: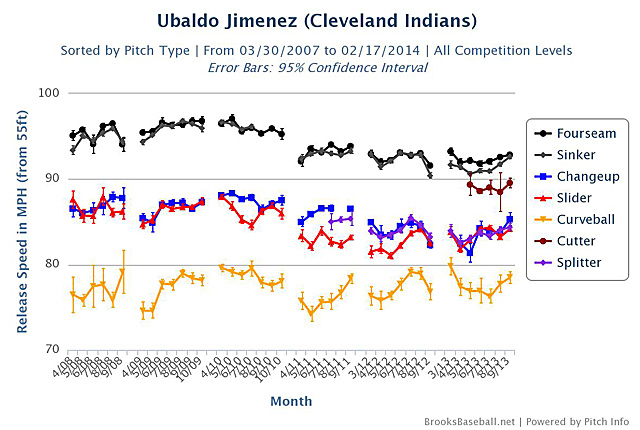 It's entirely possible Jimenez has reinvented himself -- he did add a cutter to his repertoire last season -- and the final 12 starts will snowball into Jimenez re-establishing himself as an All-Star-caliber pitcher. We've seen him perform dominantly enough at times to warrant a gamble, certainly -- and I have zero issue with the average annual value of the deal.
But Ubaldo Jimenez at this point is someone you gamble on with a one- or two-year deal -- not a four-year deal. The most likely outcome down the road is that the Orioles regret this signing.
Gallardo spent the first eight years of his career in Milwaukee

MLB revenues are at a record high right now, but teams aren't spending it on players

Chicago added Tyler Chatwood earlier this offseason but might not be done adding to the ro...
The Dodgers and Braves pulled off a whopper on Saturday

Sabathia will reportedly spend a 10th season in the Bronx

Fowler suffered a knee injury at Chicago's Guaranteed Rate Field