Orioles held team meeting about Manny Machado's weekend actions
After a busy weekend in the negative headlines, Manny Machado was the subject of a team meeting by the Orioles. He was said to be remorseful.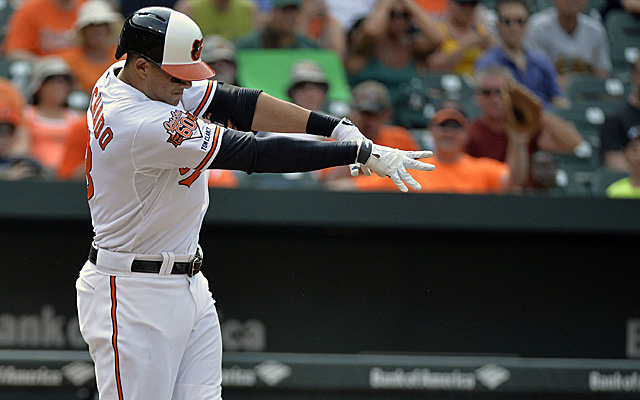 Machado's weekend: Beef with Donaldson over tag | Throws bat after pitch
Orioles All-Star third baseman Manny Machado had a pretty bad weekend, behavior-wise. First, he overreacted to what seemed like a pretty run-of-the-mill tag by Athletics third-sacker Josh Donaldson. After some chippiness between both clubs throughout the series, Machado then reacted to an intentional inside pitch from Fernando Abad (who shouldn't be let off the hook, by the way) by what appeared to be an intentional throw of his bat.
Machado claimed the bat slipped out of his hands, but that's a tough sell for me. He didn't start to "swing" until the pitch was by him and it was coming right at him. His batting eye is better than that.
Anyway, before Monday's game against Boston, the Orioles started batting practice a bit late due to a team meeting to discuss Machado and his actions, per Orioles beat writers. From MLB.com's Britt Ghiroli:
The O's took the field late for pregame batting practice as they held a team meeting to discuss Machado's actions -- which included flipping a bat to third base and twice hitting A's catcher Derek Norris with his backswing. Manager Buck Showalter said Machado had some remorse today and the club is planning on being without him in the event -- which seems very likely -- that Machado is suspended.
First things first, the people trying to claim Machado didn't throw his bat intentionally can cease and desist. Not only is it blantatly clear he didn't throw it until reacting to the inside pitch -- instead of trying to swing at it -- but if he's showing remorse, that means he knows he did something wrong.
Also, per multiple reports, some Orioles were also concerned that Machado didn't at least apologize to Norris for the backswings, as it was likely unintentional. Norris himself was pretty upset about it.
"Usually most guys, it's a, 'You all right?' Something," said Norris (MLB.com). "But, if anything, I might've caught him smiling one time, which is kinda bizarre. Not really much [courtesy] coming from his side today. I don't need a guy to ask me if I feel all right to feel good about a situation, but I think it is courteous for one ballplayer to another to ask if they're all right. But yeah, nothing."
Norris also said Machado's other actions were a "disgrace to baseball."
Expect Machado to be suspended sometime soon. Between that and his teammates and coaching staff -- a very professional group -- talking to him, hopefully we won't see much of this in the future. Our focus should be on his immense talent.
Among other penalties, No. 1 international prospect Kevin Maitan is now a free agent

Judge underwent the arthroscopic procedure on his left shoulder on Monday

Giancarlo Stanton trade rumors are hot right now
It's part of commissioner Rob Manfred's ongoing effort to improve pace of play

But one other team is prominently in the mix for the Marlins' slugger

Morgan went into the Hall in 1990 and has some strong words for PED users