Orioles' Jason Hammel reinjures right knee, leaves game
Orioles pitcher Jason Hammel, just back after missing almost two months recovering from knee surgery, was forced out of Tuesday night's start against the Rays with another injury to his right knee. He'll see the doctor on Wednesday, but doesn't sound optimistic.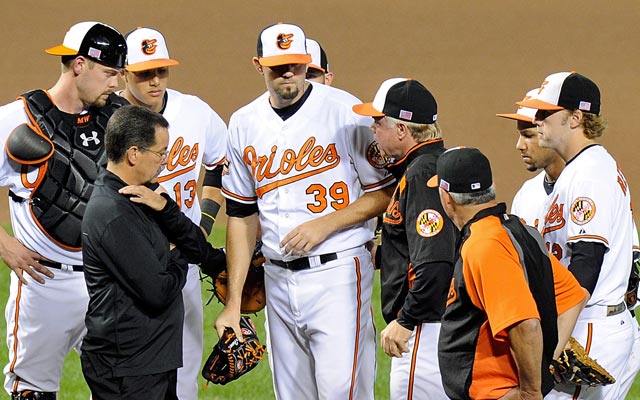 Jason Hammel has been snake-bitten this season with injuries.
(Getty Images)
BALTIMORE -- The Orioles may have another significant injury to deal with.
Pitcher Jason Hammel, who just missed almost two months after knee surgery, was forced out of his Tuesday night start against the Rays with another injury to the same right knee. Hammel said his knee felt as bad as it had pre-surgery, but he'll see a doctor on Wednesday and holds out some hope that the pain was a result of scar tissue breaking.
"It's a very sharp pain in the knee, in the same spot," Hammel said. "I thought we'd cleaned it up [with surgery]. I'm fine standing still or moving forward in a straight line, but any lateral movement it feels like I'm getting stabbed in the leg."
Hammel said he reinjured the knee on a fourth-inning pitch to Evan Longoria. He tried to pitch through the pain, but landed awkwardly on the first pitch to Matt Joyce, the next Rays batter. When manager Buck Showalter and the Orioles athletic trainer came to the mound, a decision was made quickly and Hammel departed the game.
Hammel was a big part of the Orioles' early-season success, when he went 8-2 with a 2.61 ERA in his first 14 starts. He struggled while pitching with the knee injury in late June and early July, and eventually decided to have it operated on. He returned to the Orioles rotation last Thursday, when he pitched well but had to leave his start against the Yankees when he was hit on the right arm by a line drive.
The Orioles are already playing without leadoff hitter and emotional leader Nick Markakis, who had surgery on his left thumb Tuesday. Markakis broke his thumb when he was hit by a CC Sabathia pitch on Saturday.
Where might the Orioles third baseman land?

Kinsler will slot in at second base for the Angels

The Marlins got a better return for Ozuna than Stanton or Gordon
The two teams are going about things in very different ways

The Marlins are indeed in teardown mode under new ownership

The Marlins still have more attractive pieces