Orioles, Johan Santana agree on one-year, $3M minor-league deal
The Orioles have agreed to sign free agent pitcher Johan Santana to a one-year, $3 million minor-league deal.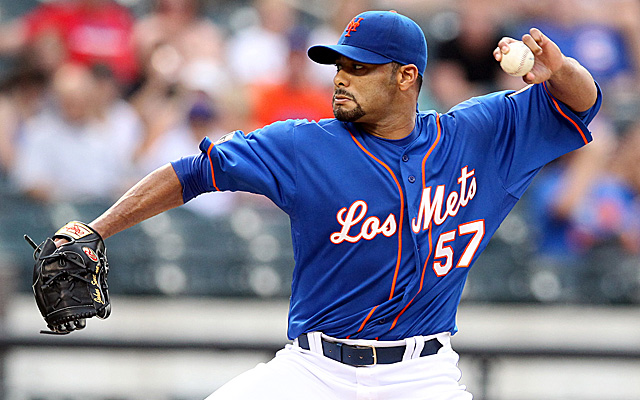 More MLB: Spring training | FA tracker: position players | FA tracker: pitchers
The Orioles have agreed to sign free agent pitcher Johan Santana to a one-year, $3 million minor-league contract, reports Jon Heyman of CBSSports.com.
Santana, 34, worked out for seven teams last week and reportedly was only sitting at around 77-78 miles per hour with his fastball. Still, he's still in the rehab process and is shooting for a return to the hill at some point in June.
The signing of Santana is tantamount to spending a few bucks on a Powerball ticket. In the grand scheme of things, there really isn't much risk, but the incredibly unlikely reward is big. The former best pitcher in baseball was still very productive in 2010 and had a 2.38 ERA with 68 strikeouts in 68 innings pitched for the Mets through 11 starts in 2012.
Since then, though, Santana fell apart (8.27 ERA in next 10 starts) and had surgery on his left shoulder -- his second such procedure.
As far as a role, the Orioles have starting pitching depth in Ubaldo Jimenez, Chris Tillman, Wei-Yin Chen, Bud Norris, Miguel Gonzalez, Kevin Gausman, Zach Britton and Suk-min Yoon are eight starters for five spots right now. So Santana would have to break into the top five over four guys there.
What about as a reliever? It's intriguing. The Orioles only have Brian Matusz -- who is also attempting to stick as a starter, by the way -- in the 'pen from the left side to begin the season and Santana could thrive with a fastball-sinker-changeup arsenal as a situational reliever. It's worth a try.
OOTP's team ran some simulations for us on the 2017 World Series

Reddick spent half the 2016 season in L.A. and did not enjoy it

Martinez has spent most of the past decade as Joe Maddon's bench coach, but should be ready...
The Dodgers have acquired more players through trades than by any other means

Surprisingly few current Astros were originally drafted by the team

Dodgers manager Dave Roberts on Sunday announced his World Series rotation for the first four...