Orioles looking to trade Jim Johnson; Dodgers in mix
The Orioles have gone from "willing to listen" to trade offers for All-Star closer Jim Johnson to actively trying to deal him. The Dodgers and others are said to be in the mix.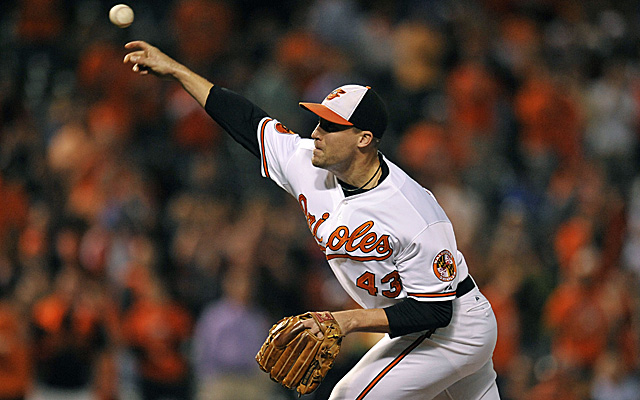 As has been previously noted in this space, the Orioles are willing to listen to trade offers for All-Star closer Jim Johnson. Reports Monday are a lot stronger, though, as CBSSports.com's Jon Heyman reports the Orioles are trying to trade him. A Fox Sports report said the Orioles are "trying hard" to deal him.
As I said, stronger. "Willing to listen" isn't even in the same ballpark as "trying hard."
The Dodgers in particular are said to be in the mix along with a few other teams.
Johnson, 30, has one more arbitration year left before hitting free agency, so any deal for him would be of the short-term variety, unless the team acquiring him was ready to sign him to an extension.
Johnson has led the majors in saves the past two years, but he blew nine of his 59 chances last season -- which included two stretches where he blew three straight save opportunities. He had a 2.94 ERA, 1.28 WHIP and 56 strikeouts in 70 1/3 innings. This following up on a 2.49 ERA, 1.02 WHIP and 41 strikeouts in 68 2/3 innings in 2012 -- the season in which his lone All-Star trip took place.
As for the Dodgers, one would hope they learned their lesson in trying to make Brandon League the closer over the much-more talented Kenley Jansen and that a possible Johnson acquisition would be to help set up Jansen. You never know, though, as saves and "proven closers" still carry a ton of weight with some front offices and managers.
The lefty starter is coming off a terrible season

After acquiring Ian Kinsler and Zack Cozart in recent days, the Angels are trending upward

Cozart's coming off a big season as the Reds' shortstop
The veteran slugger spent the last eight seasons with Cleveland

The Padres may be poised for an active winter

Yes, Bryce Harper is going to make a lot of money next winter