Orioles' Manny Machado is not A-Rod (and that's a good thing)
In high school, Manny Machado seemed to want to be Alex Rodriguez. Now Machado is a 20-year-old star, and the best thing is, he's not A-Rod.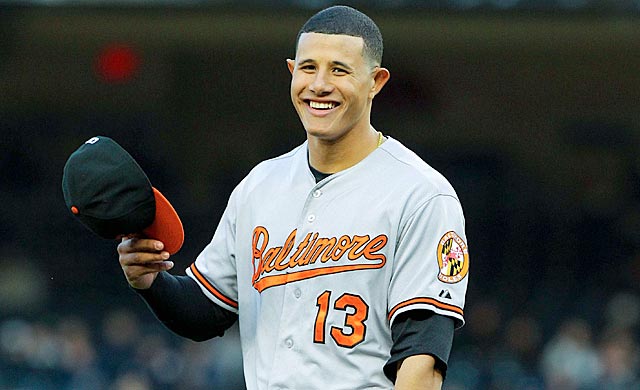 BALTIMORE -- Scouts are paid to make comparisons, and in high school Manny Machado didn't make it hard on them.
He was a tall shortstop from Miami, and he wore 13 on his back. If that wasn't obvious enough, when he took the field for his high school games he would move around just the way he'd seen Alex Rodriguez move around.
"Same number, same actions," the scouts would say, even before anyone told them that Machado had indeed grown up idolizing A-Rod.
"He's A-Rod," they would tell their bosses.
No, he's not.
He's one of the best young players in the game, a 20-year-old kid who is about to play his 100th career game and has numbers that will match or top what Bryce Harper and Mike Trout did in their first 100. He's an impact hitter and an impact defender at third base, a position he had barely played before the Orioles called him up to the big leagues last August.
He's so advanced offensively that Orioles people say he has the best hitting approach of anyone in their lineup. He's so advanced defensively that teammate J.J. Hardy said he makes the play on a slow roller better than any third baseman in the game.
But there's more to Machado than the numbers, and there's more than the physical skills. There's a comfort and an ease about him that reminds you a whole lot more of a young Derek Jeter than of a young Alex Rodriguez.
"I like that comparison better," Hardy said.
"He's just got a feel and a calmness that's tough to teach," teammate Nate McLouth said.
Machado's teammates speak about him in glowing terms, both for the way he plays the game and for the way he acts around them. They seem to genuinely like the kid.
"Is there one teammate who likes him? Well, then he's not A-Rod," a rival executive cracked.
In Machado's case, there's more than one. It can't be easy to walk into a big-league clubhouse a month after your 20th birthday and act as if you belong, but Machado pulled it off.
He still is, as he approaches his 21st birthday on July 6.
He seems to have the feel for always doing and saying the right thing, the same way Jeter always has.
The way Alex Rodriguez never has.
No, he's not A-Rod.
"I'm Manny," Machado said this week. "I'm going to be myself. I came in, and I didn't step on anyone's toes. I came in to just be myself and play baseball."
He came in as a third baseman, after playing only two games at third in the minor leagues. The Orioles had a need there, and not at shortstop, where Hardy was on his way to winning a Gold Glove.
Their minor-league people told them that Machado could handle the move, and could handle the pressure of joining a team in a pennant race at such a young age. They didn't promise that he would hit, but they promised that he would be able to handle it if he didn't.
As it turned out, he did hit, and he was better at third base than anyone could have imagined. When the Orioles talk about the big moments in their dream 2012 season, they say the decision to make Machado the everyday third baseman was key, because it solidified the defense.
He made all the plays. He also made the pump fake, the Orioles play of the year that won a key game against the Rays. It was a stunning play, not so much because of the skill involved but because of the baseball instinct it required.
It was a play you could imagine Derek Jeter making.
"They're both very alert to their surroundings," Orioles manager Buck Showalter said. "I call it court awareness. You don't make those plays he made without it. People say, 'How do you teach that?' You don't. They have it or they don't."
Showalter managed a 21-year-old Jeter with the 1995 Yankees. He shies away from any direct Machado-Jeter comparisons, feeling that it's unfair to put that on any 20-year-old. But Showalter does note some similarities.
"They have a quiet competitiveness," Showalter said. "The other word you think of is sincere. Their substance is their style."
Sincere. You haven't heard anyone use that word about A-Rod, have you (not unless there's an "in" in front of it)?
Machado still wears the same No. 13 he wore in high school, back when he seemed to be trying to be A-Rod. His body type is still more likely to remind you of A-Rod, and some of his skills may, too.
As well-known as the pump-fake play has become, Machado's teammates tend to point to another play he made that stuck with them just as much. He was playing third base in a game this spring, fielded a ball backhand almost on the outfield grass, and turned and threw to first without taking time to set his feet.
"He threw it harder than I could if I squared up," Hardy said.
"He threw a missile," McLouth said. "And it was right at the first baseman's chest. It was amazing, better than the Tampa [pump-fake] play."
As good as he is at third base, there's still a sense that Machado will eventually return to shortstop. Machado admits that he wouldn't mind moving back some day.
"But wherever Buck puts my name, that's where I'll play," he said.
He's a third baseman for now, and a good one.
"I look at him playing third and see what Cal [Ripken] would have been if Earl [Weaver] had moved him to third when he was young," Orioles Hall of Famer Jim Palmer said. "He's made it look like he has played there his whole life."
Hardy talks about how he and Machado quickly developed a chemistry on the left side of the Orioles infield, and about how easy the communication has been, because Machado has such a good sense for the game.
Last year, Hardy would joke that Machado couldn't really be 20, that the kid had to be older because he already understood the game so well. Even now, it's easy to forget how young he is, if you don't look at a face that still says he's 20.
He's going to get stronger. He's going to hit more home runs, more than the 12 he has hit in his first 96 big-league games. For now, the power shows more in his 18 doubles this year, a total that has him tied with Mike Napoli for the major-league lead.
"He hits the ball hard, with backspin," Hardy said. "Those line drives over the shortstop's head are going to eventually become line drives over the left-center field fence."
There's time for that. A-Rod led the league in doubles when he was 20. His biggest home run years came later (although we know now that those were steroid-aided).
It's easy to think it will be that way for Machado, too (although hopefully without the aid of steroids).
It's easy to fall back on the A-Rod comparisons, and from a scouting sense, they might well be useful. But they don't tell you who Manny Machado is.
"I know, people have got to talk about something," Machado said. "It's understandable. He's always been my favorite player."
But as Machado told Peter Schmuck of the Baltimore Sun this spring, besides learning from A-Rod's successes, he has also tried to learn from A-Rod's mistakes. It's perfectly clear that he doesn't plan to live his life the way A-Rod lives his, perfectly clear that if he ever wanted to be A-Rod, that's not what he wants to be now.
"I mean, I'm Manny," he said. "I'm not A-Rod."
He put that perfectly. He always does. He has a knack for saying the right thing. He has a knack for doing the right thing.
"He has his feet on the ground," Orioles general manager Dan Duquette said.
He's Manny. He's not A-Rod.
And that's the nicest thing anyone can say.
The lefty starter is coming off a terrible season

After acquiring Ian Kinsler and Zack Cozart in recent days, the Angels are trending upward

Cozart's coming off a big season as the Reds' shortstop
The veteran slugger spent the last eight seasons with Cleveland

The Padres may be poised for an active winter

Yes, Bryce Harper is going to make a lot of money next winter