Orioles recall Zach Britton; is he ready for another rotation shot?
Zach Britton was once a highly prized prospect for the Orioles, and he's still only 25. He has been recalled from the minors and will pitch out of the bullpen. But is he ready for another shot in the rotation?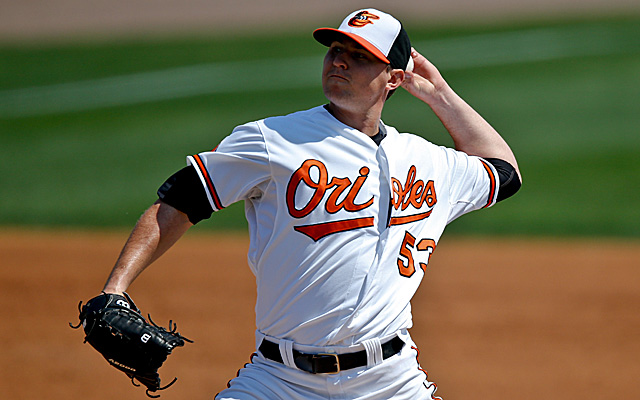 More MLB: Scoreboard | Standings | Probable Pitchers | Sortable Stats | Odds
The bullpen being a bit overworked of late, the Orioles needed a fresh arm. And it was left-handed pitcher Zach Britton who got the call before Baltimore's series opener at Oakland on Thursday night. He will be an option out of the bullpen during the next few days. However, the more intriguing prospect here is that of another shot in the starting rotation.
Britton, 25, was a third-rounder in 2006 and arrived in the majors in 2011 as a top-30 prospect in all of baseball, according to Baseball America. And Britton excelled for a bit, going 5-2 with a 2.14 ERA and 1.05 WHIP through nine starts. He even made it to the All-Star break with a respectable 6-7 record (remember, the Orioles were a last-place team) and a 4.05 ERA.
Still, Britton went 6-9 with a 6.25 ERA in his last 18 starts that season. And then he had a 5.07 ERA and 1.54 WHIP in 60 1/3 innings pitched last season, not to mention a 4.91 ERA in nine Triple-A starts.
This season, Britton has a 1.98 ERA through three Triple-A starts, which looks outstanding. But let's look deeper.
Britton has issued seven walks in 13 2/3 innings while allowing 13 hits and one hit batsman. That's 21 baserunners in 13 2/3 Triple-A innings, which is pretty bad. This was coming off a spring in which he had a 6.10 ERA. But let's instead focus on the baserunners because that was Britton's issue after his hot big-league start.
In his last 19 starts of 2011, Britton gave up 119 hits, 43 walks and one hit batsman -- or 163 runners in 95 1/3 innings. That's a rate of 1.71 baserunners per inning.
Last season, Britton gave up 61 hits, 32 walks and two hit batsmen -- or 95 baserunners in 60 1/3 innings. That's a rate of 1.57 baserunners. An improvement, but still pretty bad.
And in the minors this year, Britton has coughed up 1.54 baserunners per nine innings -- essentially what he did last year in the bigs.
Britton is a ground-ball guy, heavily reliant on the sinker. Given that he has not been a victim of too many balls in play finding holes -- a career .306 BABIP mark in the majors isn't really anything to note -- we're essentially left with the fact that Britton hasn't been effectively mixing his pitches or fooling hitters, which is compounded by the control issues (4.77 BB/9 in 2012 is bad).
With Jake Arrieta struggling and now in the minors, the Orioles have an open rotation spot behind Jason Hammel, Wei-Yin Chen, Miguel Gonzalez and Chris Tillman.
But until Britton stops allowing so many batters to reach base, he's unlikely to be the solution.
Neither Josh Donaldson nor Brian Dozier have talked about a new contract extension

Francisco leads the Dominican Winter League with seven home runs

Thome deserves enshrinement and here's why the case against him does not hold up
The Twins have already fortified the bullpen with Addison Reed, and now they want to address...

The Orioles likely want pitching, and the Indians have plenty of it

Halladay died in a November plane crash off the coast of Florida