Orioles RP Troy Patton suspended 25 games for amphetamine
Orioles left-handed reliever Troy Patton has been suspended for 25 games for his second positive test for amphetamines. He has admitted he took Adderall.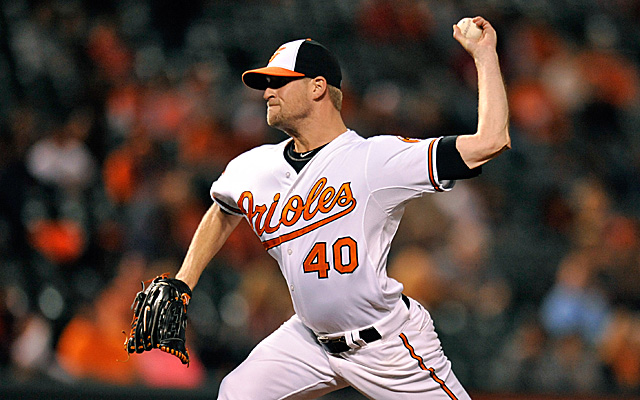 MORE: FA tracker: position players | FA tracker: pitchers
Orioles relief pitcher Troy Patton has received a 25-game suspension due to testing positive for a banned amphetamine under Major League Baseball's Joint Drug Agreement, MLB announced Friday.
Under the JDA, a first positive test for amphetamines results in a follow-up test. A second positive leads to a 25-game suspension -- so his Patton's second offense here. Patton told the Baltimore Sun that his first positive came back in 2010 and has had clean drug tests ever since. He also told the outlet that his positive tests have been for Adderall.
Patton owned his mistake.
"I took one because I was stupid," said Patton (baltimoresun.com). "It was the end of the season. It was just a stupid mistake. I don't have trouble focusing all the time, it just enhances focus in certain situations, and I was just tired, basically. I don't want to list that as an excuse. I know I took a banned substance. It was just a poor lapse in judgment."
MLB allows an exemption for players who have attention deficit disorder (ADD) to take Adderall without penalty. Patton has applied for this exemption before, but -- according to the Sun report -- he was denied the exemption after a doctor's examination in 2012.
Patton, a 28-year-old left hander, had a 3.70 ERA, 1.30 WHIP and 42 strikeouts in 56 innings last season for the Orioles. It was a down year after a real productive 2012 campaign in which he posted a 2.43 ERA and 1.02 WHIP.
Harrison has a thing for ending no-hit bids

Hill was close to perfect across regulation but it turned out to be all for nothing in the...

Plus Hank Aaron weighs in on Colin Kaepernick, Trevor Rosenthal hits the DL, and more
Davis should help fortify the Red Sox outfield

Whether or not Mike Matheny will adjust is to be seen

Hammerin' Hank wants to see Kaepernick get another shot in the NFL