Orioles send Freddy Garcia to Triple-A; are his days in MLB over?
The Orioles removed Freddy Garcia from their roster, which might mean the end of his 15-year MLB career.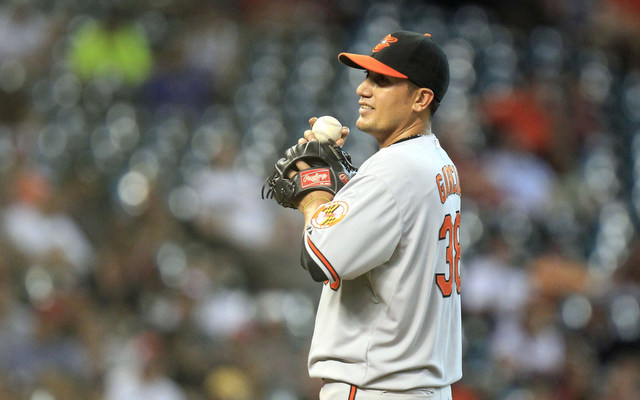 More MLB: Scoreboard | Standings | Probable Pitchers | Sortable Stats | Odds
After allowing seven runs in 2 1/3 innings on Sunday, Freddy Garcia has been optioned to Triple-A by the Orioles. The veteran right-hander can elect free agency rather than report to the minors due to his service time. He has already cleared waivers.
Garcia, 36, pitched to a 5.77 ERA and 1.36 WHIP for Baltimore in 53 innings spread across 10 starts and one relief appearance. In 17 2/3 innings this month, he has allowed 20 runs on 37 base-runners and nine home runs. Opponents have tagged him for a .390/.435/.805 batting line in June, enough to make teammate Chris Davis (.336/.413/.719) blush.
It's easy to forget Garcia was a solid starting pitcher as recently as 2011, when he managed 3.62 ERA and 1.34 WHIP in 25 starts (and one relief appearance) for the Yankees. That's no small feat in a small home ballpark in the AL East. Unfortunately, that is also the only time he's posted an above league average ERA since 2009.
Arm injuries, particularly a torn labrum and rotator cuff that required surgery in 2007, forced Garcia to tranform himself from power pitcher into a junkballer. His fastball has sat in the mid-to-high-80s for the last few years, meaning a wide array of changeups and breaking balls and split-finger pitchers have become his bread and butter. Considering he has a 95 ERA+ in 535 innings since surgery, I'd say he did a pretty darn good job making the transition.
Garcia told MLB.com's Brit Ghiroli that he will head home to Miami for a few days before deciding on his next step. He did not rule out accepting the minor league assignment and returning to Triple-A, where he opened the year. Given his age and recent ineffectiveness (78 ERA+ since the start of last year), it's easy to wonder if Garcia's big league career is over. Starting pitching is always in demand, but it takes a desperate club to turn to a soft-tosser on the wrong side of 35.
If he is done, Garcia will leave MLB with a 155-106 career record and a 4.18 ERA (106 ERA+) across parts of 15 seasons, which is a pretty fantastic career. He was also traded by the Astros to the Mariners for Randy Johnson as a 22-year-old in 1998, another feather in his cap. Not bad, Freddy. Not bad at all.
The Astros scored seven runs in Game 6 after scoring nine runs total in Games 1-5

The Astros are still alive, and Justin Verlander is the reason why

With a six-run lead in the ninth, the Astros used closer Ken Giles for 23 pitches
On Saturday night in Houston, it'll be CC Sabathia against Morton

The ALCS will go the distance after all with the Astros offense coming back to life in Game...

Verlander's stuff was insane during Game 6 of the ALCS