Orioles still in on free-agent starter Ervin Santana
Despite signing Ubaldo Jimenez to a $50 million deal, the Orioles have maintained dialogue with free-agent right-hander Ervin Santana.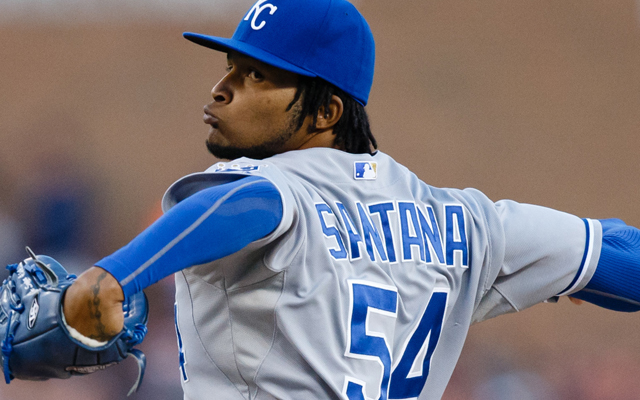 The Orioles, who already made the big play of the spring by signing starting pitcher Ubaldo Jimenez to a $50 million deal, could pull off a second surprise.
Baltimore, according to sources, has maintained dialogue with top free-agent starter Ervin Santana, who could potentially bolster the Orioles' rotation further.
A Jimenez-Santana double play would be quite a coup for the Orioles, who have one of the best lineups in baseball but needed to enhance their rotation in the strong AL East.
The Orioles quite obviously see a nice two-year window to win, with top slugger Chris Davis and superb catcher Matt Wieters due to become free agents after 2015, and seemingly little chance to extend those players in that window. It wouldn't be a bad spot for Santana, either, as he has been notoriously under-supported in his career by the Angels (Los Angeles didn't score in his first five starts in 2012, a record) and Royals, as Baltimore has a very strong lineup.
Should the Orioles pull off a Santana signing, they could possibly move Bud Norris into the closer role, though it isn't clear what they would do. Tommy Hunter appears to be the leading option for that spot among pitchers in camp.
Santana had an exceptional season in 2013 but, like several free agents, has found the market slow due to the prospect of signing teams having to surrender a first-round pick. Santana, 9-10 with a 3.24 ERA last season, has started more games than all but nine pitchers since entering the league in 2005, and is known for durability and pitching deep into games.
The Orioles also are in contact with top free-agent hitters Kendrys Morales and Nelson Cruz, who also have the draft pick attached to a potential signing.
The Jays and Mariners have been in contact with Santana, as well, and several other teams, including the Rockies, Royals and Indians, checked in at some point.
Jimenez received a $50 million, four-year contract from Baltimore, and Santana is thought to be seeking a deal in that neighborhood, if not more.
The Orioles had been reluctant to relinquish the first-round draft choice attached to Jimenez, but only a second-round pick is exposed now.
Gallardo spent the first eight years of his career in Milwaukee

MLB revenues are at a record high right now, but teams aren't spending it on players

Chicago added Tyler Chatwood earlier this offseason but might not be done adding to the ro...
The Dodgers and Braves pulled off a whopper on Saturday

Sabathia will reportedly spend a 10th season in the Bronx

Fowler suffered a knee injury at Chicago's Guaranteed Rate Field