Ortiz has earned the right to talk, to get a big fat raise
If anyone deserves extra consideration, it is Boston's clutch DH David Ortiz.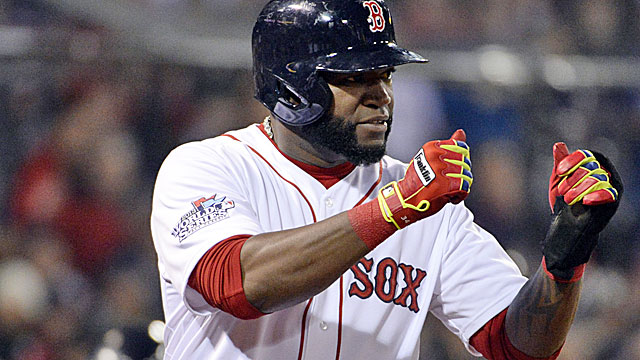 Every other year at this time David Ortiz speaks out about his contract. And every other year, someone gets bent out of shape over it.
You know what, this time Ortiz is dead right.
He deserves another year added to his deal, which is what he seeks. Plus, he deserves a big raise from the $15 million he's to make in 2014.
Twenty million sounds about right to me.
Actually, that's way low. But there seems to be an artificial cap on DHs, of which Ortiz is one.
Going off the history of DHs, he probably won't get close to that $20 million figure. But he should.
Ortiz isn't just the best DH ever. He's also quite likely the most clutch position player currently in the game (1.372 career World Series isn't a fluke). He's also the inspiration for a team, and at times last year, even for a city.
While some are upset that Ortiz will announce his requests and displeasure (a prominent Boston Globe columnist was among those offended, cheekily pointing out in his column that Red Sox/Globe John Henry also has to take care of the littler people, such as the scribes), the reality is, his bosses are OK with it. They are OK because they know Ortiz delivers.
He's delivered three World Series championships for a team that hadn't won one for 85 straight years. He's delivered when it counts like no one else. His performance in last year's World Series with the ridiculous slash line (.688/.760/.1.188) was not to be believed. He had 16 at-bats, 11 hits and eight walks. Absurd.
If not for Ortiz's grand slam against the Tigers in the ALCS, or his otherworldly week against the Cardinals, the Red Sox would not have have completed their worst-to-first mission in style, with yet another winning World Series ring. He saved his best for last, but he was pretty darned good over the 162-game slate, too, posting a .309/.395/1.188 slash line while rallying his troops, and his town, in a very difficult year in Boston.
While he just turned 38, there's no sign of age. Red Sox people recognize this, and there's a belief they'll reward him. Though, it hasn't happened yet.
So while some others are upset by his semi-annual salary soliloquy, his longtime team views it with mostly bemusement at this point. "David's earned the right to have a public platform from time to time," is the way one Red Sox put it.
Team executives met with Ortiz's people in December, and Ortiz, cognizant of what he has done and what he means, and also maybe what he hasn't heard yet, may want the process to speed up a bit.
The Red Sox have him for another year, the second year of the two-year deal he sought in negotiations two winters ago. So technically, they don't have to hurry.
But at this point, he's earned a little extra consideration. Knowing he wants to stay, and owing to what DHs make, they might be able to get him on a bargain deal. But if there's one time they should make an exception, and give a player what he wants -- even more than he wants -- this is it.
This would undoubtedly be the worst trade in Miami Marlins history

The Pirates recently shipped Gerrit Cole and Andrew McCutchen to Houston and San Francisco,...

Surely, Martinez and his agent are holding out for more
The reliever had a very good 2017 season with the NL Central champs

We don't need to discuss Chipper's Hall of Fame case, so let's have fun instead

Dioner Navarro still hopes to return someday