Others have dropped out, but Adam Jones is committed to the WBC
Two more players dropped out of the World Baseball Classic on Monday, but Adam Jones said he's committed to the tournament.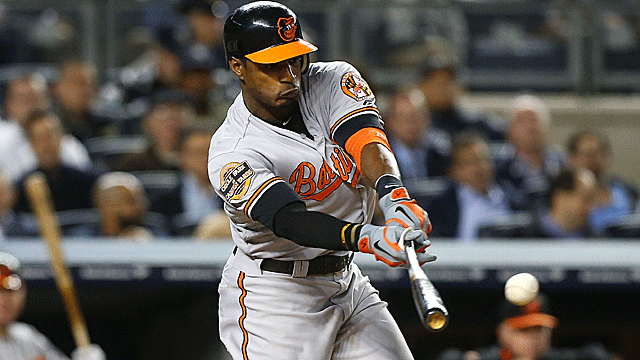 While some US players like Justin Verlander have declined the invite, Adam Jones will play in the WBC.
(Getty Images)
SARASOTA, Fla. -- Two more players dropped out of the World Baseball Classic on Monday.
Not Adam Jones.
"I always knew if they asked me [to play for Team USA], my answer would be yes," the Orioles center fielder said.
Jones said he fully understands why some players aren't playing. His teammate Luis Ayala told the Orioles Monday that he won't join the Mexico team, and Rangers said that infielder Jurrickson Profar won't play for the Netherlands.
But Jones wants to play, and as long as the Orioles have no objection (they don't), he's going to play.
"I know some other guys who aren't playing would love to be in it, but I understand why they're not," Jones said. "Some of them are coming back from injuries, and some pitchers had longer seasons."
Justin Verlander gave exactly that explanation when he decided against pitching for Team USA, saying that if the Tigers hadn't gone all the way to the World Series, he likely would have committed to Team USA. As it was, he felt he needed to push back some of his preparation for the season, and couldn't let the WBC get in the way.
"Completely understandable," Jones said. "Believe me, I'd like to have him pitching for us, but I respect his decision. His obligation is to the Tigers."
Neither Josh Donaldson nor Brian Dozier have talked about a new contract extension

Francisco leads the Dominican Winter League with seven home runs

Thome deserves enshrinement and here's why the case against him does not hold up
The Twins have already fortified the bullpen with Addison Reed, and now they want to address...

The Orioles likely want pitching, and the Indians have plenty of it

Halladay died in a November plane crash off the coast of Florida