Outbid on Miller, Martin, Dodgers keep plan on Lester, Kemp a mystery
Los Angeles so far has adhered to its alleged winter plan to keep things reasonable. But is Jon Lester the one big free-agent fish who might tempt them to revert to their big-spending ways? It is hard to know for sure with a team that keeps you guessing.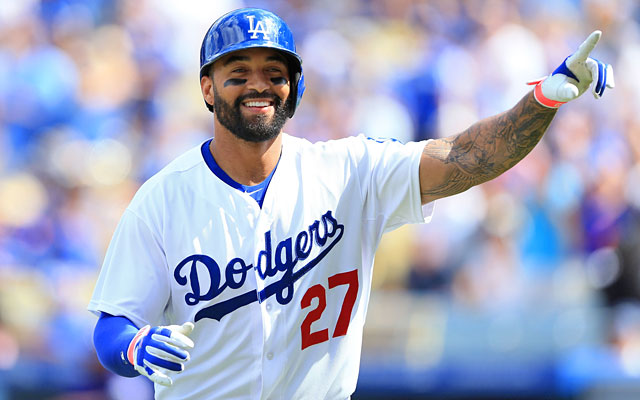 There are those so-called "mystery" teams in winter free-agent pursuits. And then there are these new Dodgers, who are just plain mysterious.
Some Dodgers people early this offseason told rivals executives and others that they aren't expecting to do many big signings or make many headline-grabbing moves, as they say they aim to cut payroll from a record $240 million to the $200 million range within a few years. They also seemed to suggest Matt Kemp would be the least likely of their three high-priced veteran outfielders to be traded since they need the right-handed power, particularly with Hanley Ramirez leaving.
Well, nothing has happened yet to contradict any of that, of course. But the Dodgers are now said to be involved in the bidding for top free-agent pitcher Jon Lester, with one or more teams said to be in the range of $130 million to $140 million for the star 30-year-old left-hander. The Lester bidding may reach $150 million.
And while the Dodgers haven't yet traded Kemp (or any of their other high-salaried outfielders), there has been a lot of buzz about the Kemp talks, with at least the Padres, Orioles, Mariners and Rangers said to have expressed some interest -- a lot more buzz than about Andre Ethier or certainly Carl Crawford to this point.
If one thing's true about these new Dodgers, they're going to be hard to track. But it sure is going to be fun trying.
While the Red Sox, Cubs and Giants are obviously serious about Lester, and LA might be too, there has been some skepticism around the game about the Dodgers' intention here. In the days before they were said by WEEI in Boston and others to join the pursuit, several Dodgers-connected people were suggesting a run at Lester wasn't necessarily likely.
They may have simply changed their minds when they saw how serious the rival Giants are. Or they might just be trying to bid up the Giants, as one rival executive suggested.
One thing that remains true about the Dodgers: It's hard to tell.
As for Kemp, the Dodgers may only be doing their due diligence, making certain there isn't a great deal to be had for easily the most valuable of their trio of high-priced veteran outfielders before ultimately unloading one of the less valuable ones, perhaps Ethier (he seems more likely to go than Crawford, who doesn't appear to have much of a market despite a .300 batting average in 2014).
But to this point, a lot of time sure seems to be spent on finding a suitor for Kemp, making folks wonder whether they might be serious about a Kemp deal, after all. Of course, he is plainly the one veteran Dodgers outfielder who would draw the most interest since a case could be made he's worth the $107 million remaining on his contract through 2019. (No such case could reasonably be made for Ethier, who has $56 million and three years left, or Crawford, who has $62.25 million and three years to go).
Really, it's difficult to know what's what with the Dodgers.
To this point they've acquired five players, none of whom is a game changer and all of whom would have fit easily into new wunderkind Dodgers GM Andrew Friedman's old puny payroll in St. Petersburg, Fla. with the small-revenue Rays. The deals so far for outfielder Chris Heisey, pitchers Juan Nicasio, Mike Bolsinger and Joel Peralta and catcher Ryan Lavarnway are all of the low-budget variety and fit into the scenario painted by Dodgers people early in the offseason. (In Peralta's case, he actually did just that for years in Tampa Bay.)
The original plan seems to be in place. So far it is, anyway.
But can we can we really think the Dodgers are going to do nothing of significance this winter following a third World Series title by the rival Giants in five years? Now that seems like a stretch, too.
In fact, word comes now from someone with ties to the team that the Dodgers did bid $74 million over four years on Russell Martin, their old catcher, who went to the Jays for $82 million over five years, finishing second in dollars, anyway (the Cubs are said to have bid $70 million).
The amazing thing in that case is that while Martin received five times what he got the last time he was on the market as a 20-something two years ago, he actually could have had a higher annual salary had he gone back to LA. Although, while the Dodgers were his original team they were actually at a geographic deficit for Martin, a Montreal native and resident whose friends and family all still live in Canada.
But the pursuit of Martin was no sort of surprise. That was expected early, as the Dodgers loved his .402 on-base percentage, his pitch framing and all the other gifts he brings. Plus, he could have fit into their budget-whacking plans, thanks to the retirement of Josh Beckett and defection of Ramirez.
Of course Lester would be double that. At least.
And as for the more recent attempts to sign top free-agent setup man Andrew Miller and Lester, well now, those come more under the heading of surprises. Of course, in the end the Dodgers really were a non factor in the Miller derby, as they didn't make Miller's final three of the Yankees, Astros and Red Sox. Ken Rosenthal of FoxSports.com reported the Dodgers wouldn't accede to a fourth year, something the other three teams all were ultimately willing to do.
So, perhaps the assumption by some that the Red Sox will blow the other three big-market teams known to be bidding on Lester out of the water may be nothing more than bad guesswork. Though of course, it is hard to know.
In the case of Miller, Dodgers higher-ups, including team president Stan Kasten, were already known to be frustrated by high-priced relief deals gone awry (Brandon League, Brian Wilson). So Miller wasn't a priority, and they may actually feel more comfortable with someone like Pat Neshek, an excellent reliever who couldn't expect a four-year commitment.
If nothing else, the Dodgers are keeping us guessing.
One thing seems true regarding Lester and the Dodgers: A monster, blow-him-away offer wouldn't seem to fit the alleged plan. Actually, the early word going around was that the Dodgers felt they needed to beef up the bottom of the rotation, with No. 5 and 6 starter types, which is where Bolsinger and Nicasio come in.
Lester is the type of pitcher that can change ones mind, of course. It should be noted that the Dodgers' new front office is stocked with ex-Red Sox executives, some of whom were there in 2002 when Boston had the brilliant stroke to take Lester in the second round and give him what was that year the highest second-round bonus, $1 million, to bring him to Boston from his hometown of Tacoma, Wash.
So maybe they love Lester more than they let on.
Of course, even if LA tried hard to steal Lester from his comfort zone in Boston, plus Chicago and San Francisco, there is no guarantee he will go. He really isn't all about the money, anyway, and one rival exec who knows him guessed that Lester, who moved seven years ago to Atlanta, "really isn't an LA guy," either.
One move that will undoubtedly happen at some point is the excising of an outfielder, as there simply isn't room for all of them anymore. The Heisey acquisition had to be their most surprising move to date, and it has to force more moves.
But while they've suggested to others that the trades probably wouldn't involve Kemp, who's occasionally upset but still extremely productive with the bat, that of course remains to be seen.
Friedman won't say a thing to shed light on their precise plans, admitting that he sees it as a negative for others to learn about any of their ideas while citing rules about free-agent players. He has told folks he also doesn't even mind "noise" around his team, meaning reports that are somewhat off base or even completely off, so he is less inclined than others to correct misinterpretations, half truths and even less than that. His silence only adds to the mystery, of course.
The mere hiring of Friedman, who mastered the art of making the most out of puny payrolls with the Rays, would seem to suggest the idea of cutting payroll at least crossed their minds. And while their 2014 $240 million player ledger draws some ridicule from lower spending teams, the procurement of high-priced stars was a smart part of the previous plan to re-energize the franchise following the reign of penurious owner Frank McCourt and helped them get their record $8.3 billion local TV package.
That kind of money excuses the overpays for Beckett, Crawford and Ethier. And it also makes the expected Lester contract of $150 million to $170 million seem like small potatoes. And, for all their hints that budget-cutting is their new game, Lester may be tempting for the proud and storied franchise that has improved the past four seasons but watched in horror as the Giants stole the real glory again and again.
But while there have been a couple big pursuits so far, not to mention the shopping of a superstar outfielder, the Dodgers have still done nothing to make us think they've ditched the original plan of discipline. So while there's an assumption out there that they may lap the field financially in the Lester derby, nothing should be assumed about these new Dodgers. The one thing we know so far is this: They are happy to keep us guessing.
>> Want more Hot Stove? Trade Tracker | Free Agent Tracker
CBS Sports HQ Daily Newsletter
Get the best highlights and stories - yeah, just the good stuff handpicked by our team to start your day.
Please check the opt-in box to acknowledge that you would like to subscribe.
Thanks for signing up!
Keep an eye on your inbox for the latest sports news.
Sorry!
There was an error processing your subscription.
Keep up with all the latest trade rumors around Major League Baseball

The Dodgers and Orioles have reportedly pulled off the first blockbuster of the trading se...

The Orioles received five prospects in exchange for their franchise player
The Dodgers and Orioles pulled off a blockbuster on Wednesday, and these two Dodgers are pretty...

Which prospects might contenders deal away in the coming days? Let's have a look

From Zach Britton to Jonathan Schoop, we examine all the Orioles' trade options