Overshadowed, stigmatized Starlin Castro off to big start for Cubs
For the past several years, many have painted the picture that Starlin Castro is bad for the Cubs. His teammates and manager disagree and he's off to a big start in 2015.
CINCINNATI -- With the Chicago Cubs playing well in the early going, which position player do you notice? Is it an MVP-type start by Anthony Rizzo ? How about Kris Bryant killing the ball to begin his big-league career? There's the dynamically talented Jorge Soler , too. Addison Russell arrived on the scene just after Bryant to heavy hype and came through with the big blow in Sunday's 5-2 win over the Reds.
And then there's Starlin Castro . He has been around for a while and is still dealing with a rather silly lingering stigma. There's a far-too-widespread belief that he's not living up to his billing, is lazy, is a terrible defender, is not a winner or any other part of a laundry list that is tantamount to simply saying: "I've decided I don't like him, so I'll make up a reason to prove why he isn't very good."
What's funny, though, is if you knew absolutely nothing about Starlin Castro before the 2014 season -- yes, I'm including last year -- and just started watching him then, you would love him as much as Jason Hammel does (we'll get to that later).
Castro is only 25 years old and he's already a three-time All-Star. Through Sunday, he has 869 career hits, which is more than -- just to grab two big names that are often bandied about when hits is the topic -- Derek Jeter and Pete Rose had through their age-25 seasons. In fact, if Castro can avoid injury, he's a sure bet to get to 1,000 hits by the end of the season. Here's a list of players to collect 1,000 career hits through their age-25 season in the expansion era (post-1961): 
Source: Baseball-reference.com play index
1. Alex Rodriguez , 1,167
2. Robin Yount, 1,153
3. Cesar Cedeno, 1,097
4. Edgar Renteria, 1,061
5. Roberto Alomar, 1,054
6. Ken Griffey Jr., 1,039
7. Miguel Cabrera , 1,022
Obviously hits alone isn't the very best category to judge hitters, but on a rate basis, Castro has gotten the job done in all but one year of his career, especially given his position. Let's look at Castro vs. the average shortstop in 2014.
Castro: .292/.339/.438
NL avg SS: .253/.313/.376
That's a significant gap. And, again, go back to how many hits he has collected to this point in addition to his All-Star appearances and there are still many fans and media who think of him as some sort of loser or locker room cancer. It's a bit ridiculous -- actually it's absurdly ridiculous -- but we can find the roots.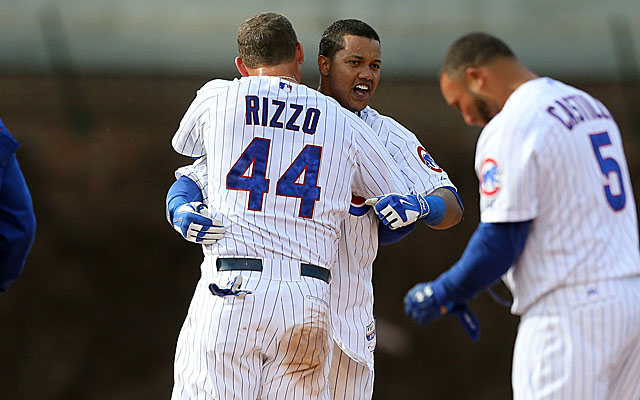 In 2013, Castro was terrible, relative to his standards and talent level. He hit .245/.284/.347 and this was one season after manager Dale Sveum had enough problems with Castro to put him "on notice." I thought he could've used a few days on the bench at the time, though I'll admit to looking back at that as an overreaction. Anyway, the terrible 2013 season was also two years after Bobby Valentine famously spent seven minutes undressing Castro on the air on ESPN's Sunday Night Baseball. That's a high-profile tongue-lashing that stuck with many non-Cubs fans nationally.
Taken in totality, these are the kinds of things that players can't seem to shake. It's amazing how few allow for players -- and this isn't limited to Castro -- to redefine themselves, especially at such a young age. Who a person is at age 21 doesn't define him for the rest of his life, but that's sometimes how it goes in sports and Castro is a good example.
Last summer, the Cubs traded for Russell and Javier Baez was a prospect with lots of buzz. They were all shortstops at the time, and some misguided minds were screaming about how the Cubs had to trade at least one of them -- along with my favorite sentiment: OMG who is gonna pitch? Again, it's misguided because minor-league shortstops change positions all the time. Still, the talk proceeded and the Mets seemed a natural match in public opinion, given their excess pitching and need for a shortstop. Mets broadcaster Keith Hernandez wasn't having it, though.
"He's too lackadaisical in the field for my liking," Hernandez said on a broadcast (ESPN New York). "I want the Mets to get guys that are hard-nosed, come to the ball yard every day and put their 100 percent in. And I don't think Castro does that. I've seen enough of him."
Not that Hernandez is alone. Lots of opposing broadcasters -- guys who don't watch Castro on a regular basis, that is -- can't shake their past feelings for Castro. During the second game of the season, Cardinals color man Tim McCarver couldn't have stressed enough how much of a free swinger he believes Castro to be and lamented the Cardinals ever throwing him a strike. He just hammered it home all game, even after Castro picked up what would prove to be the winning hit.
By the way, Castro swung at 31.9 percent of the pitches he saw outside the zone last season. There were 61 qualifying hitters who did so more often (Fangraphs.com). That's hardly worthy of going out of one's way to point out several times how often he swings at bad pitches. But since it's Castro, there always seems to be something people want to nitpick.
These are just two examples of many and it extends to other media types as well as fans, both of the Cubs and of opposing teams. It's a stigma and an unfair one at that.
I've also seen some "he's not a winner" nonsense floating around and that's just what it is: Nonsense. Baseball is a team sport and if you aren't questioning Jose Altuve , Giancarlo Stanton , Felix Hernandez , Jose Bautista , Paul Goldschmidt or a litany of others for not having the "winner" gene, you need to back off Castro, otherwise it's hypocritical.
Another part of the problem, in my opinion, is that Castro is probably better suited to be the third- or fourth-best player instead of the best, at least as far as being on a good team is concerned. He got off to such a hot major-league start when he was 20 years old that it may have created expectations that he would become a superstar. He hasn't and so it's hard for many to shake the feeling that he's not living up to his ceiling.
As for the defensive aspect, Castro has struggled in the past and this is a rep that was earned, but this season he's turning heads. He has made several highlight-reel plays.
He did it again Sunday, robbing Brennan Boesch of a base hit in the sixth inning with a diving stop and perfect throw to first from his knees (MLB.com video).
Inside Edge is a new method of fielding data in which plays are grouped into the following categories: Impossible, remote, unlikely, even, likely and routine. Each time a ball comes close to a defender, it is put into one of these categories and the number of times he makes it into an out is counted. Last season Castro rated out pretty well and this season, so far, he's proven to be a defensive asset (Fangraphs.com).
I know, I know. You don't need stats. Fine. Watch him play and drop all previous biases. Or we could listen to Castro, his manager or his teammates.
Castro himself has admitted that his defense was an area of concern in the past, but he's determined to turn a corner, saying this past Monday that he doesn't want to be a "joke" any longer (ESPN Chicago). That same night, manager Joe Maddon went out of his way to sing Castro's praises as a defensive shortstop. Sunday, though, Maddon was more excited about Castro's dead sprint to first on a routine grounder -- the type of grounder on which pretty much every other player on both teams was jogging Sunday.
"Yeah, how about [Castro's defense]!" Maddon said. "That play on his butt throwing the guy out. Even more so the routine ground ball the last at-bat, did you see him run to first base? That was outstanding. That moment bleeds into the rest of your game. Everything he's doing right now, I always believe in the complementary effects of everything we do. If there's good baseball karma, he's created that for himself in the way he's gone about his business."
Maddon's not alone in his assessment of Castro. When I was in the Cubs' locker room Sunday morning, most of the players around thought that Castro's widespread reputation is laughable. Jason Hammel, in fact, literally laughed when I brought it up.
"This is my second year here and I feel pretty good about him as my shortstop," Hammel said, almost in disbelief when I told him how many people don't have a lot of respect for his teammate. "Whatever a guy needs to do to get ready, I've seen him in the gym doing that stuff. I don't know where this perception comes from. He has made strides over the last couple years with taking his fielding ability up a notch and he was already good at it."
"I love him," Hammel concluded with a laugh.
"He's a great dude, a great teammate," said first-year Cub Dexter Fowler . "He works hard, day in, day out. Playing against him, you never really get a good appreciation of his work ethic."
"People come up with these knocks and you never know where they came from. You wish someone would step up and say 'I was wrong,' but no one ever does that."
I got similar answers from a few others and likely could have gotten them from every single man in that clubhouse. The opposite of a cancer, Castro is actually beloved in the clubhouse.
Thus far this season, Castro is doing everything he can to quiet the doubters, just as he did last season. Through 17 games, he's hitting .329/.356/.429 with 11 RBI, and he has found a home in the middle of the order, usually fifth these days. He's been clutch, too, hitting .375 with five RBI in 17 "late and close" plate appearances. Let us keep in mind that Castro is in the fourth year of a very club-friendly eight-year, $60.57 million contract with a club option for 2020.
It sounds hilarious to try and justify a 25-year-old with three All-Star trips and over 850 hits, but here we are. Starlin Castro is still fighting the perception that he's lazy or a cancer or not a winner or whatever other junk the legions of naysayers wish to use.
With the Cubs off to a 10-7 start, it marks their best start to a season since 2008, when they won 97 games. Scoff if you wish, because three games over .500 doesn't sound like a big deal, but that's a 95-win pace. The Cubs started 5-12 in each of the previous three seasons, too. Things already feel different.
"The energy pregame in the dugout is outstanding, the guys are definitely on top of things, they're ready to play and as a manager that's all you can ask," Maddon said. 
As the season unfolds, the Cubs are likely to be a contender and there will be plenty of credit to be spread around the roster. He won't be the most high-profile reason, but just remember the now-underappreciated Starlin Castro. He's a pretty damn good player and is still only 25 years old. If you're among the masses who have already discounted him, it's never too late. He's earned a second chance.
Plus the Indians are now 27-1 in their last 28 games. Here is everything you need to know from...

The soon-to-be 43-year-old Dickey said he wants to spend more time with his family

The two NL Central rivals opened a four-game series at Miller Park on Thursday night
The ballparks in Cincinnati, San Diego and Seattle will have expanded netting in place by Opening...

Mondesi spent six years as the mayor of San Cristobal in the Dominican Republic after reti...

The veteran skipper has been Mets manager since the start of the 2011 season