Overworked bullpen an early concern for the Brewers
The Brewers have baseball's best record at 15-5, but they've had to use their bullpen heavily to get there.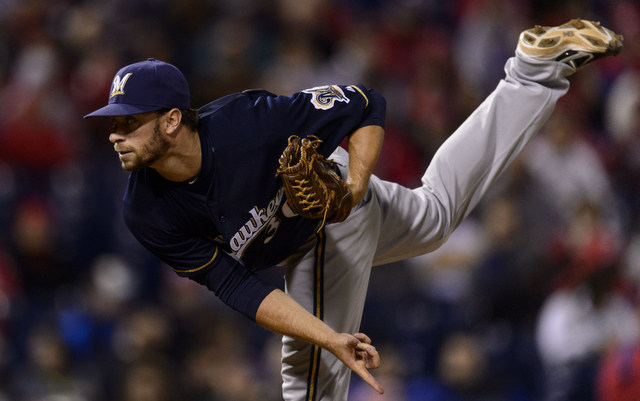 More MLB: Power Rankings | Expert Picks | Latest news & notes | Fantasy news
At 15-5, the upstart Brewers currently own the best record in all of baseball, with two more wins than any other team. They've been very successful early on for a number of reasons, including their bullpen. Their relievers have the best K/BB (4.33), second-best WHIP (1.03) and sixth-best ERA (2.55) in the game. They've been dynamite.
Not only has the bullpen been excellent, but it has been used quite a bit. The Brewers have 64 total relief appearances in 20 games, the fifth most in baseball. Two of the four teams ahead of them are the Dodgers and Diamondbacks, who started the season early in Australia. Only five non-Dodgers/D-Backs relievers have appeared in 11 games this season and three are Brewers: Francisco Rodriguez, Tyler Thornburg and Will Smith.
The bullpen workload has been especially high over the last week, thanks in part to a 14-inning game on Sunday. Courtesy of the ultra-useful Daily Baseball Data, here is the Brewers' bullpen workload over the last seven games: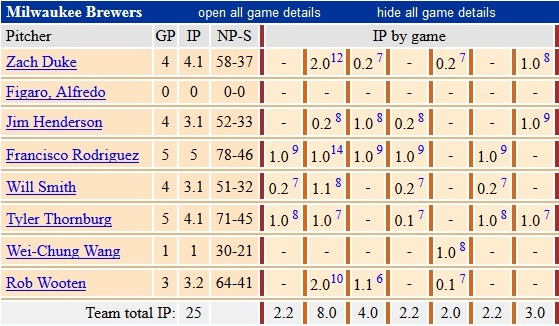 Seeing it laid out in a table like that really drives home how much these guys have been used. K-Rod has pitched each of the last four days and five of the last six. Thornburg has pitched five times in the last seven days while Smith, Jim Henderson and Zach Duke have pitched four times in the last seven days. That's an awful lot of work, especially this early in the season.
"It's hard when you go extra innings, and already because we've been winning, we've been using certain guys a lot," said manager Ron Roenicke to Adam McCalvy of MLB.com. "I was looking at the sheet today, (pitching coach Rick Kranitz) and I were going over it, and certain guys have pitched a lot."
Rodriguez told Tom Haudricourt of the Journal Sentinel that "every time they ask me if I want a day off, I always look at the schedule and tell them the day that we have off ... that's my day off." Of course he does. Relievers who tell their managers when they need to rest are very rare. Players don't give honest answers when asked if they need rest, they're all competitors and they all want to play everyday.
Further complicating things is rookie lefty Wei-Chung Wang. The Brewers selected the southpaw from the Pirates in the Rule 5 Draft, meaning he has to remain on their active 25-man roster all season or be offered back to Pittsburgh. Wang is jumping from rookie ball to the majors (skipping Single-A, Double-A and Triple-A) and has thrown only two innings this year, both in mop-up duty. Since he is being used sparingly, the team has a six-man bullpen for all intents and purposes.
The Brewers are off on Thursday, ending a a stretch of 16 games in 16 days. After the off-day they will play 13 games in 13 days, so that's 29 games in 30 days. Even by baseball standards that is a lot, especially for April and May. Add in a ton of close games (six of their last seven games have been decided by two or fewwer runs) and it's been tough for Roenicke to rest his top relievers.
Milwaukee has gotten off to an excellent start this year and the shutdown bullpen has been a big reason why. This kind of workload is not something the relievers can sustain all year -- I suppose they could, but that would make them an extreme outlier these days -- and if Roenicke doesn't start to scale back on his bullpen usage soon, these guys are going to burn out later in the season. A team with postseason aspirations doesn't want to fall short of October because their relievers are out of gas in September.
The Dodgers have acquired more players through trades than by any other means

Surprisingly few current Astros were originally drafted by the team

Dodgers manager Dave Roberts on Sunday announced his World Series rotation for the first four...
How should the Astros play it when one of their two aces isn't on the mound against the Do...

The former big-league infielder also worked as GM of the Puerto Rico national team

The Indians pitching coach would be getting his first MLB managerial job