Ozzie Guillen defends Nationals' shutdown of Stephen Strasburg
Marlins manager Ozzie Guillen said, 'It's nobody's [bleeping] business what they do with Strasburg.'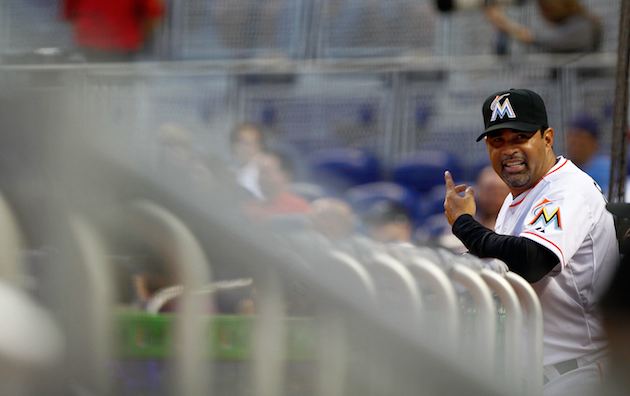 Ozzie Guillen says not to forget the Nationals' other starters. (Getty Images)
A lot of people don't like what Ozzie Guillen has to say on any subject, but I think his opinion on the shutdown of Stephen Strasburg is right on target.
Before Strasburg's penultimate start of the season on Friday - which lasted only three innings, equaling his season low - Guillen went off on the coverage of the Strasburg shutdown. From the Palm Beach Post:
"It's nobody's [bleeping] business what they do with Strasburg. That's between Washington, Strasburg and the team.

"Those guys made a decision in spring training -- this kid is not going to be there [in late September]. A lot people have different [bleeping] opinions. They're doing this for a reason, and it's not my problem.

"It's funny how people are making a big deal about it. Maybe it's TV time …

"Do they need him? Yes. But the four guys they have behind him are [bleeping] good, too. If those guys have a Yankees situation, [bleep] you, you're pitching. But they don't. They have four guys out there, plus they have one of the best bullpens in the league …

"Be careful if you change your mind, you might regret it …

"I guarantee if they was the Yankees … they need that guy to start, 'You start, and we'll see what happens later.' But they are in a great position. And they have four guys behind him. Obviously he's one of the best pitchers in the game …

"At the end of the day, it's nobody's business …"
For more baseball news, rumors and analysis, follow @EyeOnBaseball on Twitter, subscribe to the RSS feed and "like" us on Facebook.
Here are the bullet-points of what went down Tuesday regarding MLB and the Braves' punishm...

The owners need to ratify on the new system in place, but the takeaway here is Ohtani is coming...

A preliminary report National Transportation Safety Board has shined some light on details...
John Coppolella was placed on the permanently ineligible list by MLB on Tuesday

Among other sanctions, Atlanta lost the player who was deemed the No. 1 international signing...

Among other penalties, No. 1 international prospect Kevin Maitan is now a free agent