Ozzie Guillen in real peril; may need change of mind by Marlins owner or inability to find new guy
Marlins manager Jeffrey Loria appears to be leaning toward making a managerial change. But Loria always carries the potential to alter course.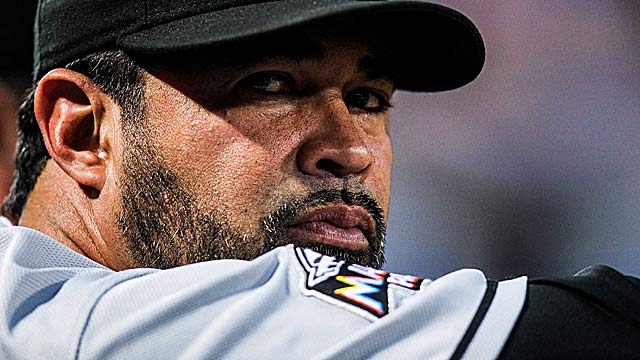 Ozzie Guillen guided the Marlins to a dismal 69-93 record in his first year as their manager.
(US Presswire)
Marlins manager Ozzie Guillen is in real jeopardy of losing his job after a disastrous first season in Miami, people familiar with the situation say -- though club owner Jeffrey Loria always carries the potential to change his course.
The Marlins have been reported in a couple places to be considering potential replacements while Guillen awaits word, so it's still possible he'll stay Marlins manager if no better candidate is deemed available. Ex-Marlins Mike Lowell and Mike Redmond are among folks viewed as potential candidates for the job.
The Marlins' usual course of action is to have a replacement in place before dismissing a manager.
A Marlins person suggested a couple days ago that there was no expectation that the situation would be resolved soon. It's possible there will be no announcement, anyway, if the team retains Guillen.
The Marlins are not a predictable organization, and that may be Guillen's only real hope to stay. Loria could always drop his search and decide to keep Guillen. Larry Beinfest, president of baseball operations, appeared likely to lose his job several weeks ago, before Loria apparently decided to keep the entire front office intact.
Loria declined to return multiple inquiries over weeks, and other Marlins people also declined to speak about the situation or didn't return calls.
The Guillen decision is completely the call of Loria, the Miami Herald reported Friday, suggesting the rest of the front office was "out of the loop'' on the decision. However, Loria surely knows the opinions of others.
The expected decision to retain Beinfest isn't necessarily seen as a positive development for Guillen. The Marlins' front office has long been viewed as split, with team president David Samson and Beinfest on one side and Loria and VP Dan Jennings on another side.
It's well-known Guillen was a pick of Loria, with Samson and Beinfest always seen as less than enthusiastic about Guillen. At least one person among the hierarchy is believed to have preferred Jim Fregosi, the longtime manager who's been scouting for the Braves for years. Many veteran managers might shy away from the Marlins' situation at this point, as some have expressed concern behind the scenes about a stability issue.
Beinfest, Jennings and general manager Michael Hill -- like Guillen -- have contracts through 2015. Until this year, Guillen's first in Miami, the Marlins were viewed as a team that often outperformed its payroll.
The Marlins' 69-93 season was a disaster by any measure. The Marlins spent $191 million on free agents Jose Reyes, Mark Buehrle and Heath Bell. While Reyes and Buehrle did about as expected, Bell, believed to be signed on Loria's call, was awful.
The Marlins' coming powwow of higher-ups has been pushed back to an unknown or undetermined date this month. That could be partly because the manager situation remains unsettled. The organization meetings are scheduled for late this month, so presumably a decision on the manager would have to come before then.
Loria's hope when he hired Guillen was that he would bring positive attention to the Marlins in their inaugural season in the new stadium in Miami, but Guillen got off to a bad start by saying in an interview that he "loved'' and "respected'' Cuban dictator Fidel Castro, who is universally reviled in Miami and most everywhere else. The Marlins' attendance in beautiful new Marlins Park was somewhat below expectations, though that  likely has more to do with the team's poor season.
Some team higher-ups believe Guillen didn't do enough to try to energize an underachieving team.
The Marlins aren't going to let the $7.5 million and three years remaining on Guillen's $10 million, four-year contract influence their call on Guillen, people with the team say. However, the great likelihood is that they won't seek a proven big-name manager as a replacement, meaning the new man could only expect a salary a fraction of Guillen's.
Marlins legend Jeff Conine, a logical choice, isn't believed to have interest in managing the team.
Lowell, the respected former Marlins third baseman who was a part of their 2003 World Series team before being traded to the Red Sox, has been doing broadcast work since his retirement from Boston. Redmond, an ex-Marlins catcher, is managing in the Blue Jays organization. The Marlins haven't yet asked for permission to interview Redmond, a source said.
Then again, three trades in four days might be behind Jerry Dipoto's usual pace

Ohtani is arguably the best hitter and pitcher in Japan

The O's need rotation help, and Cobb is available for hire
The Red Sox and Cardinals are expected to make trade offers next

The free agent first baseman may be a fit in St. Louis

The front office changes in Atlanta continue