Ozzie Guillen's postgame routine: 'go to the hotel bar, get drunk, sleep'
Marlins manager Ozzie Guillen was asked what he does when he comes to Cincinnati -- he said it was the same thing he does everywhere else, "I go to the hotel bar, get drunk, sleep," he said. He said its simplicity has its advantages -- he never gets in trouble.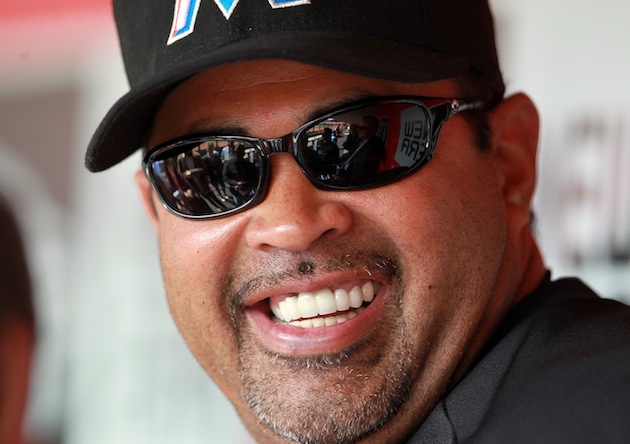 CINCINNATI -- What does a big-league manager do after a game? For Ozzie Guillen, the answer is simple.
"I go to the hotel bar, get drunk, sleep," Guillen said before Thursday's game with the Reds. "I don't do anything else."
No matter where his team is --
New York
or
Cincinnati
-- Guillen said he sticks to the same routine. In fact, he said he'd never seen the World Trade Center in New York or gone to the Golden Gate Bridge in
San Francisco
. For his 12 years that he's lived in
Miami
, he's been to South Beach three times, he said.
"I get drunk because I'm happy we win or I get drunk because I'm very sad and disturbed because we lose," Guillen said. "Same routine, it never changes. It's been the same routine for 25, 28 years. It doesn't change. I don't like to go out."
In the morning, he said, he may play golf and then get sushi for lunch before going to the ballpark.
"I don't have time," Guillen said. "I've got to be here early, and I go to sleep so drunk that I have to recover in time to go to the park."
He did say there was a major advantage to his particular ways of celebrating.
"I never get in trouble, you see that?" Guillen said. "I never leave the hotel. Nobody can call my wife and tell her they see Ozzie in this bar or place. ... I never get in trouble, I don't go out. If I got drunk and someone talked [smack] to me, there'd be a fight. I'm too little to fight. If I was [Giancarlo] Stanton's size, I would be looking for fights. I can't. I might get killed."
Several relievers have signed in the last two days

Several teams are interested in the switch-hitting first baseman

Neshek and the Phillies are closing on a two-year contract
And the team that first drafted Cole is interested

This scout was SUPER into Jeter

Stanton warned Marlins fans about the lean years that are forthcoming