Padres' Baker says he helped Greinke, didn't mock him
Padres backup catcher John Baker wants it known after the Dodgers insinuated he mocked Zack Greinke: "I assisted Zack Greinke just as much as any of the Dodgers." ...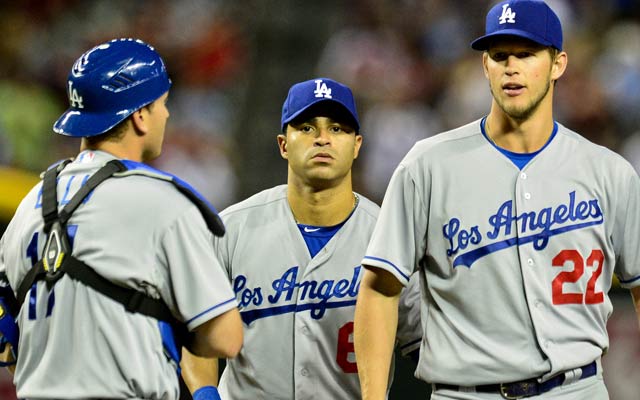 SAN DIEGO -- John Baker is a little-known backup Padres catcher who is a lot more well-known today, thanks to Jerry Hairston Jr. charging the San Diego dugout during Thursday's brawl and accusing a Padre of mocking Zack Greinke's injury.
Insinuations were that it was Baker.
"That's totally ridiculous," Padres manager Bud Black said. "That's nonsense. That had to be two minuts, two-and-a-half minutes after the initial altercation. I didn't know until after the game that Zack was hurt.
"The only thing we knew at that time was that Zack was ejected from the game. The umpire told us."
Baker was well aware of the Dodgers' accusation that he was somehow making fun of Greinke, and he is livid at even the idea of that.
"Let me start by saying that I didn't find out he was hurt until the ninth inning," Baker said. "If you watch the videotape of the melee, I'm the one who pulled Zack out from under all of the people on top of him. I got him away from everybody else.
"I was completely unaware of him getting hurt. It's a frustrating situation for me that somehow something gets taken out of context.
"I missed a year-and-a-half with an elbow injury. I'd never wish that on anybody. I'm disappointed that bad things come out of other people's mouths about me when that's not the case. 
"In my opinion, I assisted Zack Greinke just as much as any of the Dodgers."
Marcell Ozuna figures to be the next Marlins star on the move

Several relievers have signed in the last two days

Several teams are interested in the switch-hitting first baseman
Neshek and the Phillies are closing on a two-year contract

And the team that first drafted Cole is interested

This scout was SUPER into Jeter