Padres CEO apologizes for likening Zack Greinke to 'Rain Man'
In light of last Thursday's brawl against the Dodgers, Padres CEO Tom Garfinkel spoke with a crowd of Padres fans Friday and made some insensitive remarks about Zack Greinke's social anxiety disorder, likening him to 'Rain Man.' Garfinkel has apologized.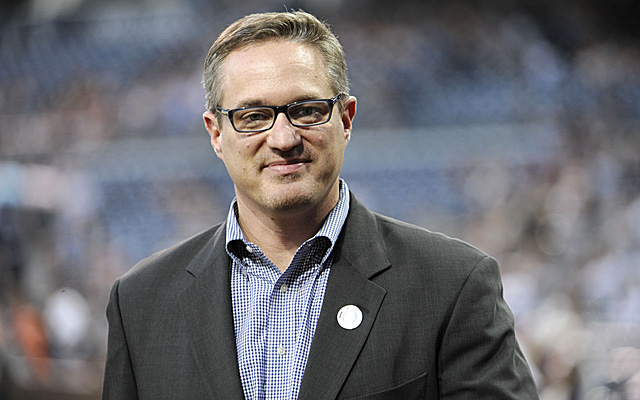 More MLB: Scoreboard | Standings | Probable Pitchers | Sortable Stats | Odds
Thursday marked a week since the Padres-Dodgers brawl started when Zack Greinke hit Carlos Quentin with a 3-2 pitch that may or may not have been errant -- depending upon whom you ask.
In the aftermath, Greinke had surgery to repair a broken collarbone, the war of words between the two teams has continued and the Padres swept the Dodgers in Los Angeles.
And Thursday, a story surfaced that Padres president and CEO Tom Garfinkel made light of Grienke's history with mental issues. Jeff Passan of Yahoo Sports obtained a four and a half minute audio clip of Garfinkel talking to a crowd of Padres fans at Petco Park Friday, in which this was said by Garfinkel:
"He threw at him on purpose, OK? That's what happened. They can say 3-and-2 count, 2-1 game, no one does that. Zack Greinke is a different kind of guy. Anyone seen Rain Man? He's a very smart guy."
Garfinkel then went on to specifically mention Greinke's bout with social anxiety disorder.
Thursday, Garfinkel apologized.
Again, via Yahoo Sports:
"I was emotional the day after the game and regrettably, while defending our player, I said some things I shouldn't have, especially as it relates to Zack Greinke. I was out of line and I apologize.

"Obviously, I don't condone fighting and I wish it wouldn't have happened. You never want to see any player get hurt."
OK, so this is hardly a "47 percent" level snafu caught on audio, but obviously Garfinkel shouldn't have said it. The reactions of readers will vary from those who whine about "PC police" to those who are extremely offended. I think we can -- or at least should -- all agree it's pretty stupid to make fun of someone's mental issue, especially in public. That appeals to the lowest common denominator and we should all be better than that.
From a personal standpoint, I have a daughter with autism and the Rain Man comment stood out for me -- as Dustin Hoffman's character in that movie had a relatively severe case of autism. I don't know Garfinkel, but I'll give the benefit of the doubt here and guess he was not specifically attacking people with autism (if he was, well, he's going to have an issue with me in this space in the future). My guess is he was pandering to Padres fans and made an obvious, foolish mistake. He has apologized for his error in judgment.
Just maybe think things through better in the future, you know? Strive to be better than low-rent stuff like Rain Man references.
The Indians may be seeking a left-handed hitter in return

NBC Sports California has cut ties with the former A's slugger after a string of inappropriate...

Pineda figures to miss most of the 2018 season after undergoing Tommy John surgery
Keep tabs on the top 50 free agents right here

Your one-stop shop for all things MLB Winter Meetings-related

The Angels knew about the first-degree sprain and still wanted to sign the potential ace, of...