Padres, in buy mode, seek a starter (but don't expect Peavy reunion)
San Diego is looking at bringing in rotation help and, for a change, has money. But a Jake Peavy reunion still seems like a pipe-dream.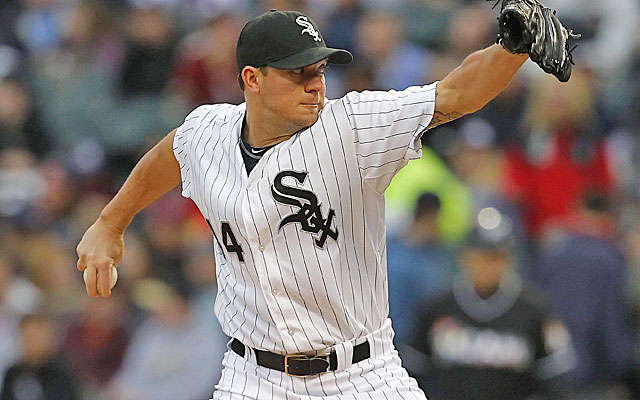 The Padres, long presumed to be sellers, are instead looking more like a potential buyer now -- thanks to a nice run that has them contending in the tight NL West.
What shouldn't be a surprise at all is that the Padres, 3 1/2 games out at present, are looking for starting pitching.
What might be for the low-revenue Padres: it appears they do have a little money to spend for a change.
The 38-38 Padres' one obvious need -- their starting pitchers' ERA of 4.56 is better only than Milwaukee's in the NL -- puts their focus clearly on the rotation with a week more than a month to go before the July 31 trade deadline. Their limited revenues could prevent serious runs at any ace who might hit the trade market, though in what seems like a positive sign, anyway, there's word that Padres people at least internally have discussed some bigger names -- including even their former star, Jake Peavy (though there's no evidence they'll make a serious run at Peavy in particular).
It's progress for the Padres that they aren't in sell mode. And even more progress that they aren't only perusing the bargain bin.
But before anyone gets carried away, a reunion with Peavy, who won a Cy Young Award in San Diego, appears to be very unlikely indeed. While they've thought about it, there's no evidence it's something being seriously considered.
Peavy's White Sox look like a candidate to sell, Peavy has suggested he'd be open to trades after signing a $29 million, two-year Chisox contract and he is said to have loved his long time in San Diego. And while he's on the disabled list for a broken rib and is expected to be out another three-to-four-weeks, he's been traded before while on the DL -- the Padres sent him to the White Sox in a deadline blockbuster four years ago while he was out with an ankle injury -- and he'd be a logical candidate for the White Sox to peddle should they transition into peddle mode.
Other trade candidates such as Ricky Nolasco, Bud Norris (who's said to welcome a move to California) and younger guys are probably still more likely for the young, upstart Padres. A report in the San Diego Union-Tribune mentioned the Orioles' young righthander Jake Arrieta as another possibility. Baltimore has been willing to consider trading some of its younger pitching, and Arrieta is seen as having a great deal of talent even if he's been inconsistent at the major-league level.
Someone like Arrieta is probably a much more likely trade candidate for San Diego. But it's still interesting to think about a Peavy possibility -- no matter how long a shot that it might be.
The veteran skipper has been Mets manager since the start of the 2011 season

The Cincinnati ballpark will have expanded netting in place by Opening Day 2018

The Baltimore third baseman is eligible for free agency following the 2018 season
The clubs breaks ground on Globe Life Field next week

The fan struck at Wednesday's Twins-Yankees game was hospitalized

The Yankees are almost certainly headed to the postseason as a real threat to win the World...