Padres' offer to Headley was for three years, not close
The Padres are said to have offered third baseman Chase Headley an extension for three years (2015-17) and between $33 million and $39 million.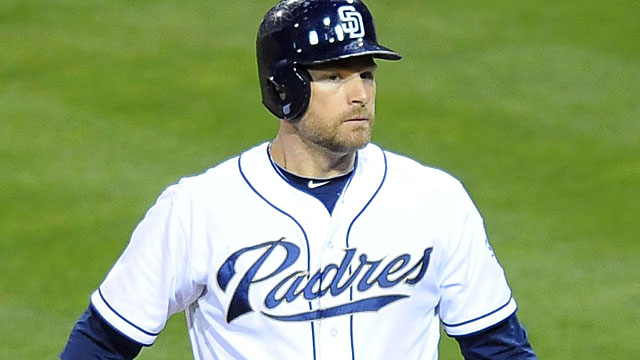 On the day after the Padres signed key infielder Jedd Gyorko to a $35 million, six-year extension, it's becoming a little more clear just how far apart they were in talks with Chase Headley, yet another key infielder.
According to sources familiar with the talks, over the winter the Padres offered Headley a three-year extension that would have covered years 2015-17 for somewhere between $33 million and $39 million.
The three-year extension offer, made after the sides agreed on a one-year deal for 2014, would have begun after Headley played this year for $10.525 million, giving him a total package of somewhere between $43.525 million and $49.525 million.
Padres general manager Josh Byrnes declined comment. Headley's agent, Casey Close, didn't return a message.
The sides are said to be nowhere close to a deal with Headley believed to be seeking something well in excess of that offer. Headley said in spring training that he expects to play the year out with no more dialogue until he can become a free agent after the season.
Headley, 29, has never publicly suggested where he believes his value lies, beyond saying early in the 2013 season that he wouldn't seek a 10-year deal or anything that would handicap the small-market team.
Headley made that brief comment shortly after Padres managing partner Ron Fowler publicly said early in that 2013 season that the team was formulating a proposal that would make Headley the highest-paid Padre in club history. Fowler, a new owner at the time, further stated that that offer would be made by midseason that year. Jake Peavy was the highest-paid Padre ever with his $52 million, three-year contract.
That record never came to pass, as Headley suggested upon hearing of Fowler's remarks that he didn't wish to negotiate in season.
Things have changed since then. While the market went up and Headley drew closer to free agency, his performance wasn't as good in 2013 as it was the year prior.
Headley, coming off a monster 2012 season in which he hit 31 home runs with a league-leading 115 RBI and .286 average (and finished fifth in MVP voting), didn't come close to that type of season in 2013, when he came back quickly from a spring thumb injury and finished with 13 home runs, 50 RBI and  a.250 batting average.
Headley, off to a slow start this year, is hitting .186 with one home run.
The Padres, meanwhile, have the ususal concerns of a low-revenue team. Andrew Cashner, Everth Cabrera and other young stars will be due for raises via arbitration next season.
Their deal for Gyorko, a rising second-base star, goes through 2019 and helps provide some payroll certainty. Gyorko spent a lot of time at third base in the minors, but the Padres prefer to keep him at second base, where he has played well since the switch and provides the team power at a traditionally non-power position. So while they could switch him to third base should Headley leave via free agenxy, they seem to prefer to keep him at second.
deGrom is set to become a free agent after the 2020 season

Perkins missed most of the last two seasons due to injury

Jonathan Singleton was suspended after a third positive test for a drug of abuse
Rodriguez will join Jessica Mendoza and Matt Vasgersian on the "Sunday Night Baseball" boo...

Jeff Wilpon talked about payroll on Tuesday, and it won't make any Mets fan happy

Yelich's agent recently asked the Marlins to trade him before the spring