Padres pitcher Cory Luebke to miss all of 2014 season
Padres starting pitcher Cory Luebke has again torn his UCL and will miss his second straight full season.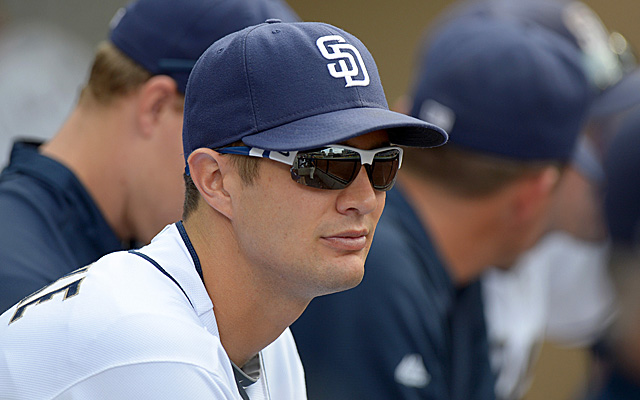 MORE: FA tracker: position players | FA tracker: pitchers
Padres left-handed starting pitcher Cory Luebke missed all of the 2013 season. And now, he's going to miss all of the 2014 season, too, reports Corey Brock of MLB.com.
Luebke had an MRI on Friday that showed a tear in the ulnar collateral ligament of his throwing elbow, per Brock. Yes, that's the ligament that requires Tommy John surgery to repair. Luebke previously tore it in May of 2012 and underwent Tommy John surgery. Though the decision has yet to be officially announced, it appears that's the path he's headed down again.
"I feel bad for him … from 2011 through the first part of 2012, he was certainly on his way," said Padres general manager Josh Byrnes (via Brock on MLB.com). "This is a real setback. There's been a lot of missed time. Hopefully in a year or so, he can get back to being Cory Luebke. This whole thing has been a mystery."
Not having Luebke back in the rotation at some point in 2014 is a big blow to the Padres. In 25 career starts, Luebke has a 3.30 ERA, 1.13 WHIP and 149 strikeouts in 147 1/3 innings. Prior to injury in 2012, Luebke was 3-1 with a 2.61 ERA (139 ERA+).
A sandwich-round pick out of Ohio State in 2007, Luebke will turn 29 in March.
There's no reason to run over the cases for and against Bonds, so let's have fun instead

The coveted right-hander would certainly be a fit in Milwaukee

We rate the best mustaches from random baseball cards because, why not?
Colon wants to break a Dennis Martinez record

The Twins have been rumored to be interested in Darvish all winter

Rolen is one of the best third basemen of all time, but you wouldn't know it based on this...