Padres place Headley on waivers
Chase Headley has been placed on waivers, meaning it could lead to a change in address, though he could also be pulled back by the Padres.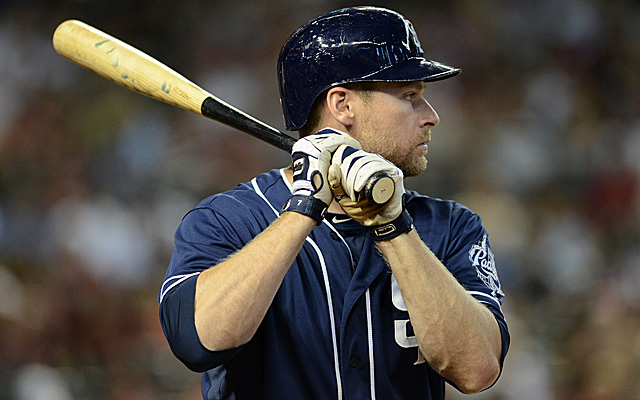 More MLB: Scoreboard | Standings | Probable Pitchers | Sortable Stats | Odds
Padres third baseman Chase Headley has been placed on waivers, reports Jon Heyman of CBSSports.com.
Before we go any further, let us keep in mind that this isn't like he's been designated for assignment. Many teams place players on waivers in August. Plus, if a player is claimed, the team could pull him back and keep him.
It is important because if Headley clears waivers, he could be traded to anyone. Also, if claimed, the Padres could let the claiming team keep him and the rest of his contract or work out a trade with the claiming team.
Headley, 29, is making $8.575 million in 2013 and is third-year arbitration eligible for next season -- so expect a similar figure, if not a small raise. He'll be a free agent after the 2014 season.
Considering the upside shown by Headley last season -- when he hit .286/.376/.498 with 31 homers and 115 RBI -- he could be attractive to many teams, even those not in contention this season. The Padres and Headley have been unable to gain any traction on a possible long-term extension.
Also of note, he's enduring a big-time step back from last season in 2013, entering Tuesday's action hitting .237/.328/.368 with eight homers and 35 RBI.
To reiterate, this could be procedural, but it could also lead to Headley winding up on a different team.
The free-agent market has been slow and one player is bracing for an even longer wait

The Mets didn't want to trade a young outfielder for an older one

Josh Harrison doesn't sound pleased Gerrit Cole and Andrew McCutchen have been traded away
The team's media contracts expire following the 2019 season

San Francisco could use more help in the outfield and at the back of the rotation

The White Sox, Athletics, Orioles and Marlins are the holdouts after the Blue Jays and Angels...