Padres return home and, surprisingly, Headley does, too
The Padres returned from a 10-game, 11-day trip Friday night still in possession of an asset many thought would not see the home clubhouse again. Third baseman Chase Headley. ...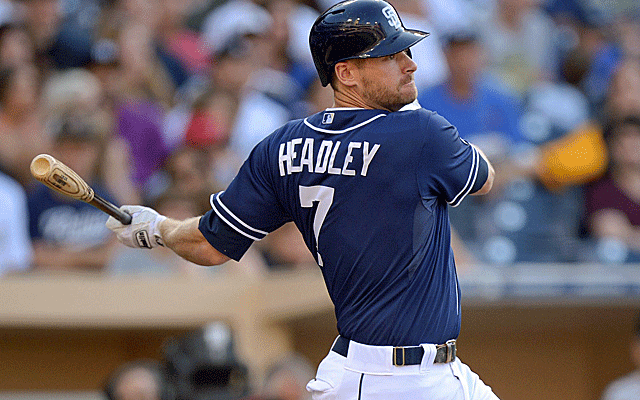 Chase Headley leads the Padres with 13 home runs.
(Getty Images)
SAN DIEGO -- The Padres returned from a 10-game, 11-day trip Friday night still in possession of an asset many thought would not see the home clubhouse again.

Third baseman Chase Headley.

"I was hoping to be back," Headley said. "I guess I made peace either way with whatever happened."
More on MLB deals
Related links
Headley's name popped up in so many trade rumors leading up to the July 31 deadline that one scout quipped "it's like he's Mike Schmidt or something."

"There were a lot of rumors," Headley said. "There were a lot of things going around. As a player, you don't know what's hype and what's true. You don't know what's going on behind the scenes.

"You ride it out, and it's a relief to get it over with. I'm glad to be here with the team."

Headley, batting in his customary third spot in the lineup as the Padres opened a three-game weekend series with the Mets on Friday night, is hitting .273 and leads the Padres with 13 homers and 57 RBI.

Clubs from the Athletics to the Pirates to the Indians and beyond inquired about the 28-year-old third baseman. Then, when the Yankees' Alex Rodriguez suffered a broken hand when he was hit by a pitch last week, the Headley rumors headed for the stratosphere.

It was at that point, he said, when the Padres were in San Francisco, that he joked with A.J. Hinch, the Padres' assistant general manager, about ditching his full beard and showing up in the clubhouse the next day clean shaven, just to mess with everybody. The Yankees have a well-known team rule forbidding facial hair.

He said he had a couple of personal favorites among the teams involved in the trade rumors but declined to publicly state them. His first choice, he said, was always clear.

"This is the organization that drafted me," Headley said. "I've been with pretty much this same coaching staff for years. I'm comfortable. We're not where we want to be, record-wise, but we're making progress."

Though even with that, Headley smiles and shakes his head when looking to the Padres' future.

"I don't know what the future holds this off season," he said. "Because the first thing I heard after the trade deadline passed was, 'Now they'll trade him this winter.'

"I guess it's good to be in demand."
Likes: The Giants holding Jerry Garcia Night the other night in tribute to local rock 'n' roll favorites Grateful Dead on what would have been Garcia's 70th birthday. Third-base coach Tim Flannery sang the national anthem with Bob Weir of the Dead, and basketball legend and well-known Deadhead Bill Walton sang Take Me Out to the Ballgame in the seventh-inning stretch. Well done, Giants. ... The Gaslight Anthem's latest, Handwritten. Picked it up the other day, finally, and it rocks. ... Grace Potter and the Nocturnals latest, The Lion, The Beast & The Beat. Haven't made it all the way through that disc yet but I like what I've heard. ... Haven't watched so much gymnastics in my life as I have during this Olympics. Jordyn Wieber attends the same high school as my Goddaughter in DeWitt, Mich. First time I ever laid eyes on Wieber was last September when I had lunch in the high school cafeteria with my Goddaughter and she pointed Wieber out at the next table.
Dislikes: The Chick-Fil-A imbroglio. Does everything have to turn political?
Rock 'n' Roll Lyric of the Day: 
"I know the rent is in arrears
"The dog has not been fed in years
"It's even worse than it appears, but,
"It's all right"
-- Grateful Dead, Touch of Grey
Where might the Orioles third baseman land?

Kinsler will slot in at second base for the Angels

The Marlins got a better return for Ozuna than Stanton or Gordon
The two teams are going about things in very different ways

The Marlins are indeed in teardown mode under new ownership

The Marlins still have more attractive pieces