Padres sell for $800m to group that includes Phil Mickelson
The Padres have reportedly been sold to the Fowler Group for approximately $800 million. The deal won't be finalized until the MLB owners approve the sale.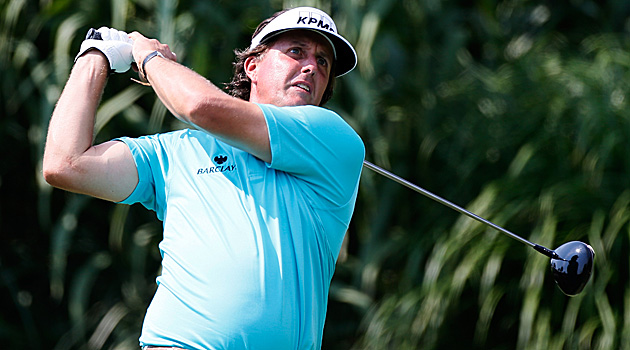 Dodgers have Magic, and now the Padres have Lefty. (Getty Images)
The sale of the San Diego Padres was completed Monday night, reports MLB.com. The final hurdle is approval by the current MLB owners, though there isn't expected to be any issue. CBSSports.com's Scott Miller reported back on June 25 the deal will be approximately $800 million and that remains the case. Miller also reported the controlling owner would be Ron Fowler, an investment banker. Current Padres owner John Moores -- who has been trying to sell the ballclub since 2009 -- seems ready to move on.
"It's been a long time coming," said Moores (MLB.com). "It's on the agenda for the August meeting, and I'm optimistic that Commissioner [Bud] Selig and the other 29 owners will approve it."
The winning bidder, and soon-to-be-owner of the Padres, is the Fowler Group. It includes former Dodgers owner Peter O'Malley, his sons Kevin and Brian, PGA golfer Phil Mickelson, O'Malley's nephews Peter and Tom Seidler and -- last but definitely not least -- Ron Fowler. As Miller reported in June, Fowler is going to have a very prominent role with this ownership group.
The $800 million deal marks a substantial profit for Moores from a previously agree-upon deal with a group headed by Jeff Moorad. Moores had agreed to sell the Padres to Moorad's group for $525 million, but the deal never got MLB approval and Moores was forced to re-open the bidding.
Since then, though, the Dodgers sold for over $2 billion, so the price of owning a major-league team went way up.
"There's no question that the market lifted in the last year," Moores said (MLB.com). "A lot of that seems to be attributable to the new generation of TV contracts. I think that's what drove the Dodgers value up so much. I don't think will have any problems with the sale this time around. This one is so solid. I don't foresee any outstanding issues."
Especially not in making an extra $275 million.

Sheffield has the numbers to make it to Cooperstown, but he has received very little suppo...

Granderson heads north of the border for his age-37 season

What did the Pirates get in return for their franchise player?
Rivero could remain in Pittsburgh for some time to come

The White Sox, Angels, Athletics, Orioles and Marlins are the holdouts after Blue Jays fol...

The Pirates have several attractive trade chips if they decide to go into a full rebuild