Padres vs. Phillies score, takeaways: Kyle Schwarber, Bryce Harper and Zack Wheeler star in Game 1 victory
The Phillies took NLCS Game 1 on Tuesday night in San Diego
The Philadelphia Phillies struck first in the 2022 National League Championship Series with a 2-0 win over the San Diego Padres in Game 1. Phillies co-ace Zack Wheeler dominated with seven shutout innings to give the Philly bullpen a much-needed light night of work. On offense, Bryce Harper homered for a third straight game, and Kyle Schwarber blasted one of the longest home runs in recent postseason history. 
The Padres made things interesting against reliever José Alvarado with one out in the bottom of the ninth. Jurickson Profar walked, and then Juan Soto reached on a fielder's choice thanks to a throwing error charged to Phillies third baseman Alec Bohm. However, Alvarado recouped to retire Manny Machado on a fly-out and Josh Bell on a strikeout to end the game.
The Phillies now hold a 1-0 lead in the best-of-seven series that will determine who advances to the World Series to face the winner of the New York Yankees-Houston Astros ALCS. 
Now for some takeaways from Game 1. 
Wheeler was dominant again in 83-pitch outing
Wheeler through his first two starts of this postseason had a 2.19 ERA with nine strikeouts and two walks in 12 1/3 innings. Wheeler, who along with Game 2 starter Aaron Nola gives the Phillies a duo of aces, was even better against the Padres on Tuesday night: 7 IP, 1 H, 0 R, 8 SO, 1 BB. He didn't allow a hit until Wil Myers' one-out single in the fifth, and he spotted 58 of his 83 pitches for strikes.
Wheeler did not come back for the eighth inning after his velocity dipped in the seventh.
In what was probably a scouting-driven decision, Wheeler leaned more on his fastball in Game 1 than he typically does – 52 percent of the time against the Padres versus 42.9 percent usage during the regular season. Mostly, that increased fastball usage came at the expense of the slider in Game 1. Wheeler got the Padres' lineup to swing at 42 percent of his pitches outside the zone, which is a lofty figure. The stellar effort lowered Wheeler's ERA during this postseason to 1.40 through three starts. He'll be lined up to go again on full rest in Sunday's Game 5. 
As for Wheeler's counterpart, Pads ace Yu Darvish, he pitched quite well -- 7 IP, 3 H, 2 R, 7 SO, 1 BB. Other than allowing the two home runs detailed below, Darvish pitched well enough to win most of the time, but the San Diego bats weren't able to give him any support. As is typically the case with Darvish, he three six different pitches and generally commanded all of them. Darvish got the loss, but in reality that loss is on the Padres' offense. 
Harper stayed hot
Bryce Harper is the Phillies' biggest star, and he's played like it this postseason. In the two games of the Wild Card Series, Harper slashed .286/.375/.714 with one home run, and he followed that up by batting .500/.529/1.063 with two homers in the four-game upset of the Braves in the NLDS. So he came into Game 1 against the Padres with a line of .435/.480/.957 in the 2022 postseason. Then in the fourth inning of the NLCS opener, he did this at expense of Darvish: 
That's an excellent job by Harper of staying with the high-and-outside fastball and going to the opposite field. It wasn't the most jaw-dropping blast of his career – it traveled just 368 feet – but it certainly counts on the scoreboard. That also made Harper the first Phillie to homer in three straight postseason games since Gary Matthews in the 1983 NLCS. 
The 2022 postseason marks Harper's first playoff appearance since 2017, but he's certainly making the most of it so far. 
Schwarber utterly destroyed a pitch 
We should just skip the throat-clearing and roll tape on this one: 
That act of war perpetrated against a Darvish cutter left the bat at 119.7 mph, and at 488 feet it was the longest recorded home run in the history of Petco Park. More: 
 Given all that, another angle on things is the least we can do: 
Schwarber during the regular season led the NL with 46 home runs, but until the above he'd been struggling during the current postseason. Schwarber came into NLCS Game 1 with a line of .050/.222/.050 for the 2022 playoffs with zero home runs in six games. As breaking out of mini-slumps goes, there's not much of a better way to do it. 
The Phillies are (mostly) in a good spot
In the history of best-of-seven playoff series in MLB, the team that wins Game 1 goes on to win that series 64.3 percent of the time. Teams that win Game 1 on the road, as the Phillies did, go on to win the series in question 59.0 percent of the time. That's good news for Philly. Now here's some for the Padres: the team that wins Game 1 on the road – again, the Phillies in this instance – goes on to win Game 2 just 37.2 percent of the time. 
Speaking of Game 2, it's scheduled for Wednesday back in San Diego with first pitch at 4:35 p.m. ET. Nola goes for the Phillies against lefty Blake Snell for the Padres. 
See New Posts
Pinned
Pinned
Pinned
Pinned
Pinned
Pinned
Pinned
Phillies 2, Padres 0
The Phillies take a 1-0 lead in the best-of-seven series. Let's point out here the Padres lost Game 1 against the Dodgers but then won three straight. This is a seven-gamer. A long series. 
Pinned
Pinned
Huge out
Machado flies out to RF. A big sigh of relief for the Phillies, but they still have to deal with Josh Bell, who swung a hot bat in the Wild Card Series against the Mets. 
Pinned
Big trouble brewing
A grounder to the left side could've ended this, or at least been the second out. Instead, an error on the throw to second means it's Machado with two on and one out. Defense is the Phillies' weakness. 
Pinned
Tying run to the plate
Profar draws a one-out walk and it's Juan Soto in a lefty-lefty matchup against Alvarado. He's been taking great swings in the playoffs. Another great one could tie it. Machado on deck 
Pinned
José Alvarado ready for the ninth
The Padres will have Austin Nola, Jurickson Profar and Juan Soto coming with Manny Machado looming if anyone gets on. Here we go. 
Pinned
Easy 1-2-3 for Seranthony
Rob Thomson wins the argument so far. There's one inning to go, though. It wouldn't hurt for the Phillies offense to tack on. They are in the right spot to do so. It's Hoskins, Realmuto and Harper. 
Pinned
Pinned
Wheeler's velocity was down last inning
A good bit too. Close to 3 mph on average. I know "Phillies bullpen" doesn't make you think "reliable," but Dominguez and Alvarado have been nails lately.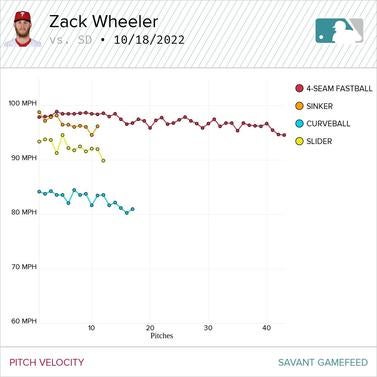 Pinned
Wheeler done
I can't believe this. After seven scoreless innings with just one hit allowed, the Phillies have removed Zack Wheeler. 83 pitches. Seranthony Domínguez in the game. 
Pinned
Wheeler
I mention the playoffs shutouts, of course, as Wheeler is through seven scoreless innings on 83 pitches. He could finish this thing. It's 2-0 Phillies in the eighth. 
Pinned
Playoff shutouts
Three of the last four individual shutouts we've seen came from Madison Bumgarner (2014 and 2016 wild cards; Game 5 2014 World Series). The other one in between was Jake Arrieta in the 2015 wild card game. The last one pre-Bumgarner was Justin Verlander in Game 5 of the 2012 ALDS against the A's. 
Pinned
Wheeler is such a stud. 71 pitches in six shutout innings.
Pinned
Please enjoy Bryce's reaction
Pinned
Kyle Schwarber's home run (119.7 MPH) is the hardest-hit home run in the postseason in the Statcast era.

Previous: Giancarlo Stanton, 118.3 MPH in the 2020 ALDS.

At 488 feet, it was the 2nd-farthest in the Statcast era, behind only Wilson Contreras (491 feet) in the 2017 NLCS.

— PhilliesNotes (@PhilliesNotes) October 19, 2022
Pinned
The secret for Schwarber's success
Kyle Schwarber just hit a 488-foot homer. It left the bat off 119.7 miles per hour and gave the Phillies a 2-0 lead. 
Before the game, local gas station and hoagie purveyor Wawa announced SchwarberFest. Kyle Schwarber had been red-hot during Wawa's original HoagieFest this summer in June, and they wanted to help him reheat at the plate. Phillies fans thank Wawa.
Pinned
Pinned
Pinned
Pinned
There, "jinx" did it
Wil Myers comes through with a single for the Padres' first hit.
Pinned
No-hitter
No-hitter. No-hitter. No-hitter. No-hitter. No-hitter. No-hitter. No-hitter. No-hitter. No-hitter. No-hitter. No-hitter. No-hitter. No-hitter. No-hitter. No-hitter. No-hitter. 
Pinned
Pinned
Wheeler vs. Darvish
Both pitchers are delivering tonight. Darvish has the strikeout advantage, but has allowed more hard contact (mostly to Bryce Harper). Wheeler has the big time pitch count advantage entering the 5th: 47 pitches for Wheeler, 67 for Darvish.
Pinned
We're through four
It's still 1-0 Phillies. Padres remain hitless.
See More