Padres, who need all the help they can get, fire a good baseball man
Josh Byrnes was just barely getting started when he was done in by unrealistic expectations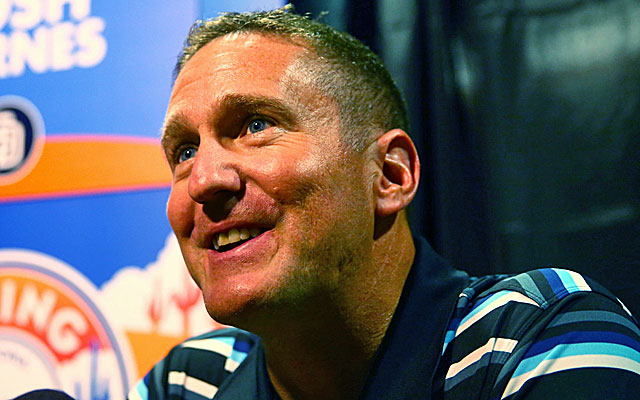 More MLB: Power Rankings | Expert Picks | Latest news & notes | Fantasy news
Josh Byrnes, one of the most respected young GMs in baseball, got only two and a half years to turn around an out-financed, out-manned, oft-injured Padres team. It's no surprise that  timetable turned out to be unrealistic.
Byrnes, hailed only 14 months ago by the new Padres owners, was relieved of his duties Sunday, well before any semblance of a plan could possibly take effect.
It isn't clear why the new owners saw the Padres as likely contenders this year, but in a recent radio appearance new CEO Mike Dee praised the great financial backing of the new owners. Well, ahem, the Padres are 21st in payroll. Only one of the nine teams below them currently has a winning record, that being the Oakland A's of Billy Beane.
Most GMs get at least five years, and many undeserving ones get many more than that. Byrnes, 44 Monday, and plenty experienced as a former Arizona Diamondbacks GM, was just barely getting started when he was let go, which begs for an explanation.
In the announcement, under the watered-down headline, "Padres announce organizational changes," Dee was quoted as saying, "This ownership group is committed to fielding a team that consistently competes for postseason play. Thus far this season, the results on the field have been mixed at best and clearly have not lived up to expectations."
So the Padres, who are outspent by everyone else in their division, are having "mixed" results. Anyone who expected San Diego to compete for the title this year probably needs a new crystal ball.
It started to become increasingly clear to baseball folks in recent weeks that this Padres ownership group was thinking they should have a pennant contender, despite having only one $10-million player (Chase Headley, who has been hovering around .200 all year) and being outspent by more than double by the Dodgers.
Byrnes is a guy with great courage and integrity, and a practically unmatched work ethic, as others have noted so often. He is willing to take risks, and while his bosses are patting themselves on the back for their financial extension, the reality is that when you're a small-market team, not every flyer is going to work. And when you're outspent by $140 million by another team in your division, you aren't very likely to win said division.
New owners are often eager to win, but that doesn't mean a few million more dollars is going to overcome a deficit that's in the tens of millions of dollars. To do so, a GM is going to need to take gambles, and Byrnes always has been willing to do that. As far as his trades, he came out ahead on many of them, and that's what a small-market GM has to do.
"You can see good and bad but you can't logically conclude he should be fired," one baseball executive said.
Byrnes scored with the trade for Ian Kennedy, but the one involving Mat Latos hasn't worked as many thought it would. The deal to send Anthony Rizzo to the Cubs for Andrew Cashner has worked for both teams, but especially for the Padres in a world where frontline starting pitchers are the game's most valuable commodity. On that front, Byrnes also acquired Tyson Ross via trade, meaning three-fifths of a very good young starting rotation came via trade.
Joaquin Benoit has been worth every penny of the $15.5 million so far. But Josh Johnson couldn't overcome has injury history, and cost $8 million.
Some of the extensions haven't paid immediate dividends. But everyone praised the Jedd Gyorko deal at the time. And they have to be thankful they didn't pay Headley what he thought he was worth.
Seth Smith came from the A's and has been their best offensive player, making it two fine trades he made with Beane, who's maybe the best in the business. There's no denying almost all the holdovers have slipped this year in a near team-wide offensive slump that has undermined a very good pitching staff -- though that isn't usually the responsibility of the GM.
The Padres, 32-43 and in fourth place, are by no stretch off to a boffo start. But is anyone outside the ownership box surprised?
The real twist is that Byrnes' bosses flipped on him so quickly. Managing partner Ron Fowler seemed to love him a year ago, and volunteered that he believed he would make "smart baseball decisions" in a column written by longtime San Diego writer Tom Krasovic.
One of the other main new owners was even more effusive in the same story. "The more I get to know Josh Byrnes, the more I like him," Peter Seidler said.
The reality is that Byrnes wasn't their hire. And maybe the owners didn't know what to expect from their small-market team. (Though oddly, the new guys advance the claim they aren't a small-market team; Ok then, they are surely a small-spending team.)
One Padres observer suggested the decision was about "personality and opportunity," suggesting Byrnes and Dee, perceived as a hard-charging sales type, simply weren't a great match. Manager Bud Black and hitting coach Phil Plantier are safe for now, Padres people were told.
But there's a question how attractive things look now that someone who did a by-and-large good job was fired. "It looks like a (messed-up) environment," one rival exec suggested.
Byrnes, from here, was done in by unrealistic expectations and bad luck. No team until the Rangers this year was as injured as often and as badly as the Padres and Rockies. Small-market teams simply cannot endure major health issues.
Fowler first let slip his unrealistic expectations when he announced early last year that he planned to make Headley an offer to become the highest paid Padres player ever. That turned out to be a mistake, as that announcement even shocked Headley, who made clear he didn't want to talk about a new deal at the time. As it turned out, with Headley slipping badly in the batters box, they may be better off suffering that rejection.
Dee gave a hint of what was to come 10 days ago on the popular local Darren Smith show. Dee did everything but promise heads would roll, saying things were "unacceptable," and going on to say, "Stay tuned. If it doesn't turn around, we'll have to make changes. This thing has to be fixed, and it will."
They've for now set up a three-headed leadership group with good baseball guys A.J. Hinch, Omar Minaya and Fred Uhlman Jr. at the top, but you wonder how involved Dee, a marketing guy, will be. Hinch and Minaya are Byrnes hires and Uhlman a longtime Padres guy. Nobody can know yet who gets to make final calls. But Dee seems to be the one with the influence at the moment, at least judging by the airwaves.
Dee grew close to Fowler, getting together on sponsorships and other business ventures during Dee's first go-round with the Padres from 1995-2002 when he was director of corporate development, then EVP of business affairs. The Padres had some decent years back then but during one five-year stretch averaged 72 wins, which is far worse than they did in Byrnes' first two injury-plagued seasons. The Dodgers also weren't spending quite $230 million in those days.
Dee isn't and wasn't a baseball guy, but in any case, you'd think he'd have an idea how hard it is to win immediately in a small market.