Papelbon suspended three games for 'intentionally' throwing at Machado
MLB has ruled that Jonathan Papelbon hit Manny Machado intentionally and suspended him for three games.
Major League Baseball has issued the following statement regarding Nationals closer Jonathan Papelbon and his pitch that hit Orioles third baseman Manny Machado earlier this week:
Washington Nationals pitcher Jonathan Papelbon has received a three-game suspension and an undisclosed fine for intentionally throwing a pitch in the head area of Manny Machado of the Baltimore Orioles in the top of the ninth inning of the Wednesday, September 23rdgame at Nationals Park.  Joe Garagiola Jr., Senior Vice President of Standards & On-Field Operations for Major League Baseball, made the announcement.

Unless appealed, Papelbon's suspension is scheduled to begin tonight, when the Nationals are to open a three-game home series against the Philadelphia Phillies.  If appealed, the discipline issued to Papelbon will be held in abeyance until the process is complete.
So the league office has ruled that Papelbon's pitch was intentionally thrown toward the head of Machado. Here's the pitch:
Given Machado's go-ahead home run a few innings earlier ...
... it's not difficult to come to the decision that Papelbon was going after Machado with intent.
And, yes, that pitch was directly at Machado's head before he reacted to the pitch by standing up taller and turning away.
In fact, three games seems a bit light for blatant and obvious head-hunting. Talk about policing the game or anything like that all you want, but Papelbon was going at the head of a fellow MLB player. There's no place in the game for that.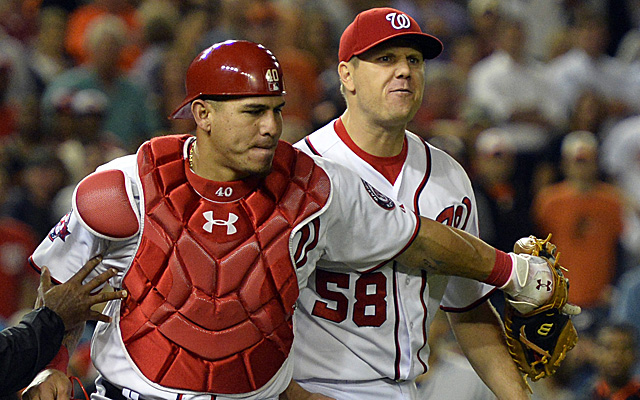 Keep tabs on the top 50 free agents right here

Your one-stop shop for all things MLB Winter Meetings-related

The Angels knew about the first-degree sprain and still wanted to sign the potential ace, of...
The run on relievers continues with two more signings

The Yankees added Giancarlo Stanton in a blockbuster trade, though they now have openings at...

Smyly is currently on the mend from Tommy John surgery