Parade of 42s, Jackie Robinson Day a hit in Dodger Stadium
Jackie Robinson Day in Dodger Stadium is a moving experience highlighted by the presence of Rachel Robinson, 90, and, of course, all of those 42s wearing a Dodgers uniform. And make sure to read below for Matt Kemp's take on how to entice more African-American kids into playing baseball. Hint: Cool baseball-themed shoe commercials. ...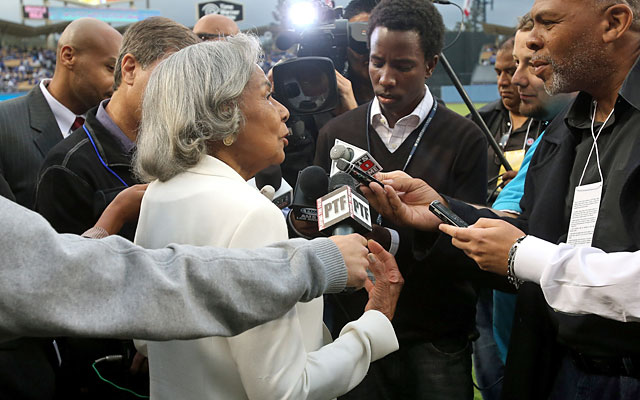 LOS ANGELES -- No. 42 charged out of the Dodgers' dugout for some pre-game sprinting in left field to get loose. Then came another 42. And another 42.
Maybe 100 feet away, Rachel Robinson, a vision of grace and poise, stood near the third-base line wearing a white suit and a smile that by itself could have illuminated Dodger Stadium for the classy pre-game ceremony.
More on Los Angeles Dodgers
Related links
Video
More MLB coverage
Close your eyes, and sins of the past nearly felt cleansed.
"Jackie Robinson was a very, very special person," Dodgers outfielder Matt Kemp was saying just before batting practice. "If it wasn't for him, I wouldn't be in the position I am now living the dream and playing the game I want to play."
Close your eyes, and you could almost hear echoes of Martin Luther King Jr.'s "I Have a Dream" speech.
Jackie Robinson Day across baseball is special every season. But nowhere else is it as special as it is at Dodger Stadium. The history. This franchise. These uniforms.
Monday night's pre-game ceremony was relatively brief -- maybe 15 minutes -- but packed with meaning.
Jackie and Rachel Robinson's daughter, Sharon, was on hand. So was the late Roy Campanella's daughter and son.
Rachel, now 90, did not speak during the pre-game ceremony. But she clearly was the star of the evening with her dignity and her presence.
"I want young people to know that you can go through really terrible times but if you form relationships and use those relationships to keep you strong, you can make a difference," she said in one particularly powerful scoreboard clip from days gone by.
Between innings, they continued with Jackie Robinson-related videos on the scoreboard.
Between plays, with the public address announcement of each new at-bat, came the solemn and meaningful words, "Wearing No. 42. …"
While Sharon Robinson spoke eloquently the other day about how moving it is to see all of these No. 42s each year, the true value in baseball bringing home this annual history lesson maybe lies more in education that these tributes seed.
Kemp spent part of the day with Sharon Robinson at Washington Middle School in Jackie's hometown of Pasadena, Calif. Kemp could not have been more impressed.
"Those kids were well-behaved and interested," he said. "They were showing some clips of Jackie Robinson playing first base, and some guy spiked him. And when they turned it off, some kids wanted to keep watching the movie."
He told of another boy entertaining everyone with all kinds of Jackie Robinson facts and figures. Kemp was impressed.
But where Kemp was at his most impressive came in addressing baseball's historically low percentage of African-Americans in the game this year (7.7 percent). In 1975, that figure was roughly 27 percent.
He spoke with passion and with urgency.
"There are ways we can touch on that to get more African-Americans into baseball," Kemp said, citing in particular the shoe advertising campaigns built around LeBron James and Kobe Bryant.
"You see cool basketball commercials and cool football commercials," Kemp said. "Kids watch TV all day. I never really see any cool baseball commercials, so why would I want to play baseball?
"You see Mike Trout and Ryan Howard in Subway commercials. If I'm a kid, I'm like, 'Who's that? Oh, Mike Trout. Ryan Howard. Let me go eat at Subway -- it must be good for you.'"
Kemp was just getting warmed up.
"I've been able to travel many places and meet many people I've wanted to meet through baseball," he said. "Kids need to know that we make just as much money as them [football and basketball players]. We have all of those cool cars.
"Kids need to know that."
Given last week's ugly brawl between the Dodgers and the Padres, there was a weird backdrop to some of the evening's theme. Carl Crawford veered into this odd juxtaposition without even mentioning Carlos Quentin or Zack Greinke in discussing what struck him most in his ongoing Jackie Robinson education since landing in Los Angeles.
"The way he was able to hold his composure," Crawford said. "Me, personally, I couldn't have gotten hit [with pitches] so many times [without responding]. Being told you couldn't sleep in certain places, to stand your ground and not fight back. …
"I don't know too many people today who could take that stuff."
Neither do most of the rest of us.
"This is a special day for baseball and, I think, for our society and for America and internationally," Padres manager Bud Black said from the other dugout. "With what Jackie meant to the game and all the people instrumental in breaking the color barrier, it's fantastic that baseball honors Jackie and honors his family with this type of day."
This would undoubtedly be the worst trade in Miami Marlins history

The Pirates recently shipped Gerrit Cole and Andrew McCutchen to Houston and San Francisco,...

Surely, Martinez and his agent are holding out for more
The reliever had a very good 2017 season with the NL Central champs

We don't need to discuss Chipper's Hall of Fame case, so let's have fun instead

Dioner Navarro still hopes to return someday