Patchwork rotation keeping Yankees in the race even without Tanaka
The Yankees have been without Masahiro Tanaka for more than a month now, yet they've stayed in the race because their patchwork rotation has been so good.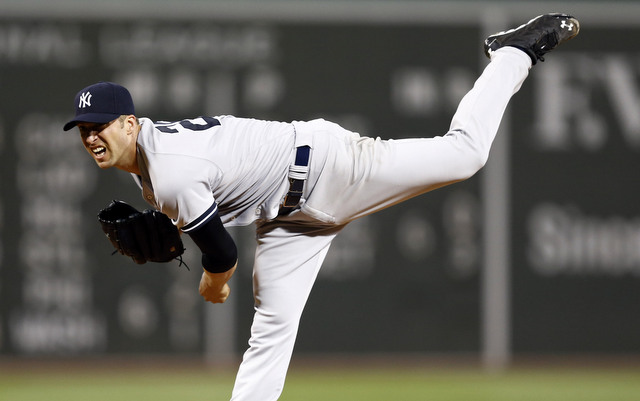 More MLB: Power Rankings | Expert Picks | Latest news & notes | Fantasy news
You can make a pretty strong argument that the five best starting pitchers in the Yankees organization are on the disabled list right now. Masahiro Tanaka (elbow), CC Sabathia (knee), Ivan Nova (elbow), Michael Pineda (shoulder) and David Phelps (elbow) are all hurt, with Sabathia and Nova done for the season following surgery.
When the Yankees lost Tanaka to a partially torn elbow ligament last month, most assumed that would be it. That would be the straw that broke the camel's back and ended New York's postseason chances. Instead, the team has gone 15-10 since Tanaka got hurt, climbing from 3.5 games back of a wild-card spot to only a half-game back, pending the outcome of Thursday night's games.
How have they done it? For starters, Brian Cashman aggressively pursued what he called "incremental upgrades" at the trade deadline, including Chase Headley, Brandon McCarthy, Martin Prado and Stephen Drew. Cashman acquired those players at little cost, and according to Eno Sarris of Sports on Earth, the Yankees added more projected WAR (2.0) than any other team at the deadline (WAR coming in vs. WAR going out). More than the Athletics with Jon Lester or the Tigers with David Price. Incremental upgrades add up quick.
The main reason the Yankees have managed to hang around post-Tanaka is the work of their patchwork rotation. And make no mistake, it is definitely a patchwork staff. The only holdover from the Opening Day rotation is the veteran Hiroki Kuroda. McCarthy came over at the trade deadline, Shane Greene was called up after 66 1/3 innings at Triple-A (4.61 ERA), and Chris Capuano was plucked off the scrap heap. Esmil Rogers, Friday's starter, was claimed off waivers last week.
Before the Tanaka injury, New York's rotation owned a 4.08 ERA and a 3.90 FIP. That's with Tanaka, remember. Since the ace got hurt, the rotation has a 3.46 ERA and a 3.34 FIP in 25 games. Look at these individual performances:
•McCarthy: 4-0 with a 2.08 ERA in five starts since the trade.
•Kuroda: 1-1 with a 3.24 ERA in five starts since Tanaka got hurt.
•Capuano: 0-1 with a 2.84 ERA in three starts since joining the team.
•Greene: 3-1 with a 2.91 ERA in six starts since being called up.
The Yankees just won three of four against the Tigers with this foursome collectively outpitching Max Scherzer, Price, Justin Verlander and Rick Porcello. New York's starters allowed three earned runs in 27 1/3 innings in the series compared to nine earned runs in 29 2/3 innings for Detroit's starters.
Will this last? Probably not. Capuano has a long track record in the show and it suggests he won't continue pitching to a sub-3.00 ERA. Same with McCarthy sitting near a 2.00 ERA. Greene lacks the track record but it seems unlikely he'll continue at this pace. That's fine though. This is stuff that has already happened. It's in the books and it can't be taken away.
Pineda will make his second Triple-A rehab start on Friday and is expected to jump back into the rotation next week, replacing Rogers who is temporarily replacing Phelps. Tanaka started a throwing program earlier this week and the team hopes he can return in September. Phelps is due back in about three weeks. Cashman continues to look for starting pitchers on the trade market. There is some help on the way.
Nothing about the Yankees says they should be in the race for a postseason spot right now. Not their run differential (-23), not the names in their rotation, and not all the injuries they've piled up. And yet, there they are, right on the cusp of a wild-card spot and within shouting distance of the Orioles for the top spot in the AL East.
The Yankees have a huge payroll and that certainly helps, but their rotation includes anything but big money players at the moment. Cashman & Co. has filled out the staff on the fly and on the cheap amid the injuries, and those guys have actually been better than the pitchers who opened the year in the rotation.
Gallardo spent the first eight years of his career in Milwaukee

MLB revenues are at a record high right now, but teams aren't spending it on players

Chicago added Tyler Chatwood earlier this offseason but might not be done adding to the ro...
The Dodgers and Braves pulled off a whopper on Saturday

Sabathia will reportedly spend a 10th season in the Bronx

Fowler suffered a knee injury at Chicago's Guaranteed Rate Field