Patrick Corbin discusses tight-knit D-Backs and his surprising year
Left-hander Patrick Corbin is a first-time All-Star and a big reason why the surprising Diamondbacks sit atop the NL West.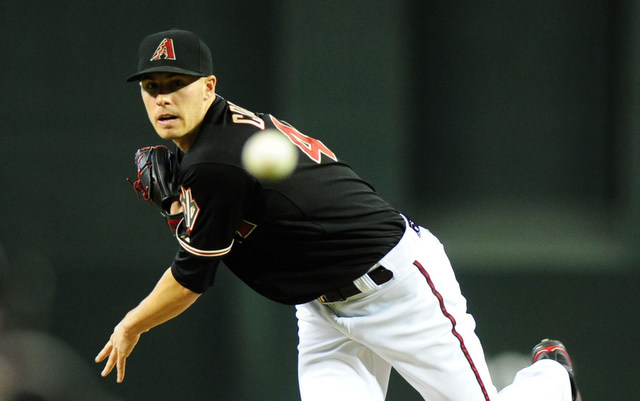 More All-Star: Without Donaldson, game bittersweet for Colon, Balfour 
NEW YORK -- The 2013 All-Star Game at Citi Field is a homecoming of sorts for Diamondbacks left-hander Patrick Corbin. He grew up in upstate New York, about four hours from Manhattan in the Syracuse suburb of Clay.
"It's great to be closer to home," Corbin said Monday during All-Star media day. "It makes it a little easier on my family to come see me, which is awesome. I grew up a Yankee fan but also knew about the Mets a lot. It's just neat to have an opportunity to be an All-Star and have a chance to be here."
Corbin, 23, is in his second season as a big leaguer and first full season overall. He spent the 2012 campaign bouncing between Triple-A and MLB, essentially at the whim of the D-Backs' needs.
"I just thought that my experiences -- I learned a lot coming into this season -- I had some ups and downs last year so I thought coming in this year made it a little bit easier to be myself," Corbin said when asked the difference between this year and last. "I wanted to get off to a good start [and now I want to] continue to build off it and get stronger start by start."
Corbin, a 2009 second-round pick of the Angels who wound up in Arizona as part of the Dan Haren trade, did indeed get off to that good start. The D-Backs won his first 13 starts -- he personally went 9-0 during that time -- and he comes into the All-Star Game with an 11-1 record and 2.35 ERA.
"It was something I never thought of. I don't know how I could've imagined it, this being my second year and everything," said Corbin about being an All-Star. "It's just neat to be here, especially with Paul [Goldschmidt]. He's pretty young as well ... I want to take it all in, because you never know what to expect. It's been pretty neat so far, and I'm excited for the rest."
Thanks to Corbin, the Diamondbacks are 50-45 and sit atop the NL West division at the All-Star break. The team made an effort to change the clubhouse culture during the offseason by seeking higher-energy players and were widely criticized for it, but clearly the strategy has paid off.
"We have a great group of guys, [GM] Kevin Towers and [team president] Derrick Hall brought in a great group of clubhouse guys," Corbin said. "I think it shows. It makes things easier when you gotta go to the ballpark every day to be with a great group of guys.
"It's a long season. There's gonna be ups and downs, so having great guys in the clubhouse is awesome."
They still would much rather grab the AL East, however

Sale becomes the first AL pitcher to reach 300 strikeouts since 1999

Steve Balboni's long-standing record of 36 has finally fallen
Several players called for the netting to be extended down the base lines following Wednesday's...

Maria made landfall as a Category 4 on Wednesday

The players are trying to do their job and don't want to see anyone hurt