Paul Goldschmidt, Miguel Cabrera claim 2013 NL, AL Hank Aaron Award
The Hank Aaron Award, given annually to the top offensive performer in each league, has been handed over to a Tiger and a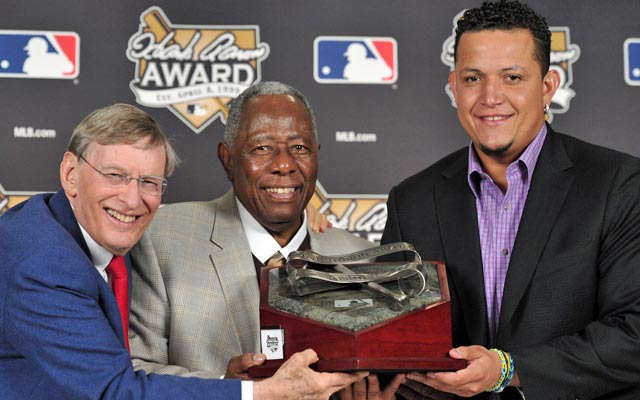 MORE: Game 4 lineups
Paul Goldschmidt of the Diamondbacks and Miguel Cabrera of the Tigers have been named, respectively, National League and American League Hank Aaron Award winners for 2013.
The Aaron Award is given annually to the top offensive performer in each league, as determined by a vote among media, fans and the legendary Aaron himself. The winners were announced on Sunday night, just prior to Game 4 of the World Series between the Red Sox and Cardinals. 
As actual, physical awards go, "the Hanky" is one of the best-designed around ... 
(Image: @MLB)
This season, Goldschmidt batted .302, posted an OBP of .401 and tallied 36 homers and 36 doubles. Goldschmidt also led the NL in slugging percentage, OPS, OPS+ and RBI.
For Cabrera, who followed up his 2012 triple crown season with a 2013 line of .348/.442/.636 to go with 44 homers and a majors-leading OPS+ of 187, this is his second consecutive Hank Aaron Award. 
Baseball-Reference has a full listing of prior Aaron Award winners.