Paul Konerko on trade talk: 'We were sh-- before the rumors'
Are all the trade rumors a distraction for the White Sox? Paul Konerko has a most candid answer to this question.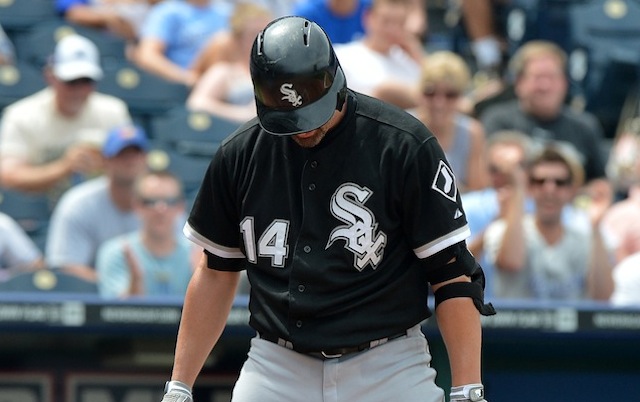 More trade deadline: Peavy scratched? | Tigers pick up Veras | Does Papelbon want out?
The White Sox are in the early stages of what figures to be a deep rebuild, and that, of course, can be pretty rough on a clubhouse -- no prayer at contention in tandem with lots of turnover. So are the rumors and speculation taking a toll on the White Sox? Team captain Paul Konerko has the answer, which can be described as "stupendously candid" (source: CBS Chicago) ... 
"Not really. We were sh—- before the rumors."
Well then. Of course, what the man says is pretty much true, as Konerko's Sox are presently on pace for 99 losses this season, which would be the most by a White Sox team since 1970.
Almost without exception, teams that sell off at the deadline are not good, but from time to time you'll still hear a veteran lament that the band is being broken up and that said breakup represents some kind of galling lack of faith on the part of the front office.
So file this under "refreshing candor."
The clubs breaks ground on Globe Life Field next week

The fan struck at Wednesday's Twins-Yankees game was hospitalized

The Yankees are almost certainly headed to the postseason as a real threat to win the World...
They still would much rather grab the AL East, however

Sale becomes the first AL pitcher to reach 300 strikeouts since 1999

Steve Balboni's long-standing record of 36 has finally fallen