Peavy could still be dealt, but it appears it won't be to A's
The A's, once considered by some as the favorites to land Jake Peavy, now say they're out. The question now: Will Peavy be traded at all?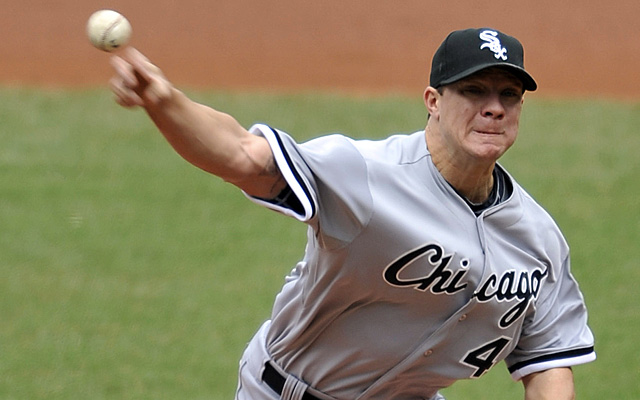 The A's say they're out on Jake Peavy.
The White Sox, according to one report, told some teams they aren't going to trade Peavy at all.
So is Peavy off the trade market?
No he isn't, according to sources. Not at all. In fact, Peavy has been scratched from a scheduled Tuesday night start in Cleveland, sources told CBSSports.com's Scott Miller, the strongest indication yet that the White Sox intend to trade him.
Because Peavy is signed for next year, the White Sox have been asking a high price, wanting a significant return in prospects and also asking teams to pick up all of Peavy's $14.5 million salary for 2014. Theoretically, the White Sox don't need to trade him at all. They could keep him and try to build their future rotation around him and Chris Sale.
The only problem with that is that Peavy is 32 years old and has proven in recent years to be very injury-prone, and the White Sox aren't that close to contending.
Trading Peavy now still seems to make the most sense, but that of course depends on the White Sox getting an offer they can live with accepting.
Some people had labeled the A's as a favorite for Peavy, but it's not like the A's to take on big salaries in their entirety. As one person pointed out Monday, if the A's had been willing to take on a full salary last July, Hanley Ramirez would be their shortstop right now.
They won't pay the price for Peavy, sources said Monday, instead focusing their efforts on adding to their bullpen or finding another middle infielder.
Assuming that the A's really are out on Peavy, the market for him likely consists of the Red Sox, Cardinals and possibly the Orioles. The Braves had some interest, but weren't thrilled with the asking price and turned their attention back to the bullpen, trading Monday for Scott Downs.
The Dodgers also had a scout in Chicago for Peavy's last start, but they too seem fully focused on adding to their bullpen. There were some suggestions that the Diamondbacks could be interested, a natural given Peavy's relationship with D-Backs general manager Kevin Towers, but a source familiar with their plans said they won't be trading for him.
Will anyone?
As of Monday, that's too hard to say.
As for Peavy, he told reporters on Monday, "I'll be happy when Wednesday is here and there's no more speculation."
Dioner Navarro still hopes to return someday

Christian Yelich's agent says his client's relationship with Marlins is 'irretrievably bro...

The free-agent market has been slow and one player is bracing for an even longer wait
The Mets didn't want to trade a young outfielder for an older one

Josh Harrison doesn't sound pleased Gerrit Cole and Andrew McCutchen have been traded away

The team's media contracts expire following the 2019 season