Perfect is perfect, but Felix's was as good as it gets
We probably shouldn't rank perfect games. Perfect is perfect. But Felix Hernandez's perfect game Wednesday was as good as it gets. This was a pitcher so dominating that you were sure the Rays weren't going to break it up -- and so confident that he was sure of it, too. Imagine what the Mariners could get if they traded him now (but now they can't).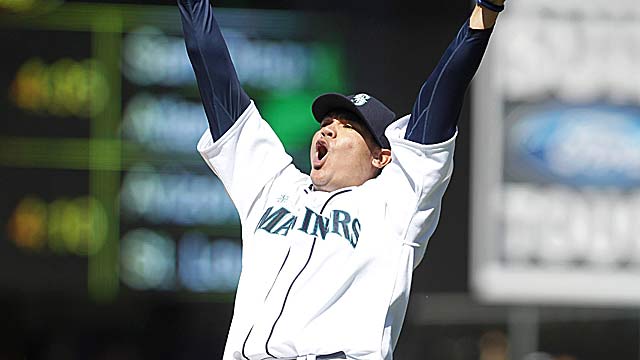 Felix Hernandez -- 12 K's -- is so dominant on Wednesday, perfection seems imminent.
(Getty Images)
Imagine what they'll get for him now.

No, I'm not going there. Not yet. It wouldn't be fair to Felix Hernandez. It wouldn't be fair to the Mariners.

Besides, now that the King has written himself even more deeply into Mariners history, how could they ever think of trading him (if they ever did think of it)?
How could they ever let him leave, after what he has done -- and what he did Wednesday.
More on Hernandez, Mariners
Related links
We probably shouldn't rank perfect games -- perfect is perfect, right? -- but I'm about to, anyway.

This one was as good as it gets.

This was a pitcher so dominating that you were sure the Rays weren't going to break it up -- and so confident that he was sure of it, too.

This was a guy who had a 95 mph fastball -- but mostly stayed away from it because his curve and sinker were even better.

"Late and just straight down," catcher John Jaso said, describing Hernandez's curveball in a postgame interview on Seattle's Root Sports. "You can't hit that. No human can."

That's what the Rays had to be thinking. That's what I was thinking as I watched. That's no doubt what you were thinking, too.

No one can hit that.

Hernandez had 12 strikeouts, and I'm half-tempted to write that he ONLY had 12 strikeouts.

The surprise wasn't that the Rays never got to first base. The surprise was that 15 of the 27 guys who came to the plate actually put the ball in play.

Of course, only four of the final 12 guys did put it in play. After the fifth inning, no one got a ball out of the infield.

That domination was part of what made this special, but only part of it.

The other part was that it was Felix.

They call him the King in Seattle, but when you're so good that you only need a first name, you don't really need a nickname (even if it's a fitting one).

Everyone knows Felix . . . as opposed to, say, Phil Humber.

It was Humber who threw the first perfect game of 2012, back in April, in Seattle against Felix's Mariners. And it was Humber who Felix referred to as "Phil Hughes" in his postgame television interview Wednesday.

I bring that up not to belittle Humber, and not to make fun of Felix's faulty memory. I bring it up because of what Felix said it meant to him.

"When [Humber] did that, I said, 'I have to throw one. I have to,'" Hernandez said.

He was thinking about it.

He was thinking about it in April, and he was thinking about it Wednesday.

"It was in the mind the whole game," he said. "It was, 'You've got to do it. You've got to.'"

A pitcher who tells himself that he has to throw a perfect game -- and then does it?

Yes, that's special. That's Felix.

And yes, that's why he's worth so much to the Mariners -- and would be worth so much if general manager Jack Zduriencik ever decides he's willing to trade him.
But he can't.
Zduriencik regularly says that he won't trade him. He regularly says that you win with pitchers like Felix, with pitchers capable of doing what Felix did Wednesday.

There just aren't that many of them out there.

But what if he did trade him? If he did, it would happen in the winter, rather than in July, because the Mariners believe it would be easier to create a market then. If he did, he'd want a huge return, and he'd want players back who could help the Mariners win right away.

It's very possible that Zduriencik never will trade away the King.

But if he did, imagine how much he could get back?

Especially after a day like Wednesday.



The Nats will host the All-Star Game in 2018

The Orioles are looking to trade Machado heading into his walk year

The Cardinals have been linked for a while to the Baltimore star
Gallardo spent the first eight years of his career in Milwaukee

MLB revenues are at a record high right now, but teams aren't spending it on players

Chicago added Tyler Chatwood earlier this offseason but might not be done adding to the ro...