Perhaps better than 28-game hitting streak: 36-game on-base streak
Blue Jays slugger Jose Bautista has reached base in every game this season. Going back to last season, he's been on base in 36 straight games. Is this more impressive than a 28-game hitting streak?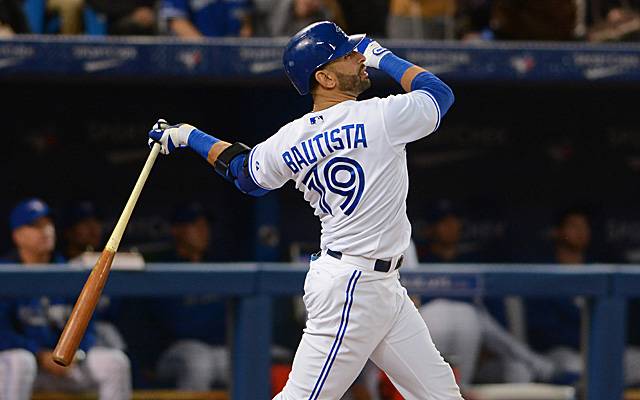 More: Colorado's Arenado extends hitting streak to 28 games
Rockies third baseman Nolan Arenado extended his hitting streak to 28 games Thursday and it'll rightfully get lots of national coverage. Hitting streaks have been a part of the baseball consciousness for decades and 56 (Joe DiMaggio's record) is a number die-hard baseball fans rightfully hold dearly.
Streaks of getting on base aren't nearly as publicized. Much like batting average, hitting streaks ignore walks. In many cases, a walk is just as good as a single, but those two things still neglect the walk. On-base percentage doesn't, so we can do this:
Batting average is to hitting streaks as on-base percentage is to on-base streaks.
Thus, the old-school people probably don't care about on-base streaks while the new school people probably think they are more important than hitting streaks.
And it's at this jumping off point that we mention that Jose Bautista of the Blue Jays has reached base safely in each and every game this season. That is 35 games this year to begin the season. It's very impressive. Need proof? OK:
The last time a player began the season reaching base in 35-plus games it was Albert Pujols in 2008. He did it 41 games. #BlueJays

— Gregor Chisholm (@gregorMLB) May 9, 2014
Bautista actually reached base in his final game of the 2013 season, so his on-base streak is now at 36 games. The record, for those interested, is a whopping 84 games, which the great Ted Williams did in 1949.
This season, Bautista is hitting .290 with a .444 on-base percentage. He leads the majors in walks with 34, but he's doing plenty of damage when putting the ball in play, too, as he has seven doubles, nine homers, 23 RBI and a .573 slugging percentage.
By no means am I denigrating the hitting streak by Arenado and I don't want to get rid of the number 56 in baseball lore. I will say, though, that the most fundamental thing in baseball is the batter trying to not make an out while the pitcher and defense are trying to get an out. OBP measures how good someone is at winning that battle. So instead of talking trash about hitting streaks I'd rather talk up on-base streaks and try to make 84 nearly as important, historically, as 56.
So, overall, I don't think we need to decide which is "better" and can instead focus on both Arenado's streak and Bautista's streak being great.
Boston wants to add two big bats to their lineup, not just one

Even more relievers signed on the final day of the Winter Meetings

Keep tabs on the top 50 free agents right here
The league is not happy Ohtani's medical information leaked

Kansas City and Baltimore were quite busy at the Rule 5 Draft

Piscotty's mother was diagnosed with ALS earlier this year