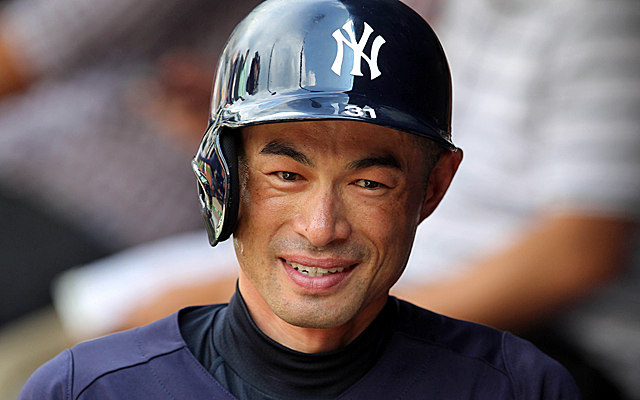 NEW YORK -- Ichiro Suzuki isn't approaching a record. He's approaching a milestone.
He's not going to knock Pete Rose or Ty Cobb out of the books. He's just going to join them in a pretty amazing feat.
He's going to get to 4,000 hits for his career, and it's only partly relevant that the first 1,278 of those hits came in another country and another league, against the Hawks, the Fighters and the Buffaloes instead of the Cardinals, the Dodgers and the Red Sox.
"You could put minor leagues, college, video games, whatever all together, it's still impressive," Curtis Granderson said Monday, a few hours before Ichiro got to 3,994 with an infield hit against the Angels.
I'm normally not big on combining stats, but in this case it's hard to see why it should be a problem. All we're doing is acknowledging that by reason of where he was born and the rules of the time, Ichiro played his first nine seasons in the highest league he could, and that didn't happen to be in the major leagues.
If anything, as Ichiro himself points out, playing in Japan might have kept him from getting to 4,000 hits sooner. The Japanese leagues play shorter seasons (135 games, as opposed to 162), and Ichiro never had more than 546 at-bats in any season for the Orix Blue Wave.
He only had one 200-hit season over there. As soon as he got here, he immediately began a streak of 10 straight 200-hit seasons.
"There are few things you can really count on in this game, but Ichiro getting 200 hits is one of them," Angels manager Mike Scioscia said. "I can't say it was fun to watch, because a lot of them were at our expense.
"But there's no doubt that he's a special player, a Hall of Famer."
He has 2,716 hits in just 13 big-league seasons, which means he has averaged more than 200 hits a year. But because he didn't get his first big-league hit until he was 27, he's never going to threaten Rose's total of 4,256 major-league hits, or even Cobb's runner-up total of 4,189.
Even if he gets to 4,257 combined hits, it doesn't go in the record book. And it shouldn't.
It's not that those hits in Japan are somehow less valuable, or that the Japanese Pacific League is a minor league. But the records don't include what you did in postseason play, and they don't include what you did in other leagues.
Rose and Cobb are still going to be the only two guys with 4,000 hits in the major leagues. But Ichiro is six hits away from becoming the third guy with 4,000 hits, period.
Could he have done it if he played his entire career in the major leagues? We'll never know, and maybe it doesn't matter.
"If you look at every year I played and the number of games and the number of hits, you could come up with an idea," Ichiro said through an interpreter. "But obviously, that's just looking at years and numbers. My skills were born playing in Japan, and I developed there. Maybe it would have been different if I had played here."
Right then, Ichiro grabbed an imaginary bat and held it up in a stance that looked more like Chris Davis' than like his own.
"Maybe I would have been a power hitter," he said, laughing.
He does have 110 home runs in the majors, and another 118 he hit in Japan. For whatever it's worth, that's more than either Rose or Cobb hit in their careers.
Look, we're already funny about what numbers we combine and which ones we don't. On the lineup sheet the Yankees handed out Monday, Alfonso Soriano was listed with three home runs and eight RBI, because his other 17 homers and 51 RBI came in the National League with the Cubs. Meanwhile, the Angels' Grant Green's combined stats were listed, because he came to the Angels from an American League team (the A's).
We already do combine some numbers, and not others, for reasons that may or may not make any sense.
So why not add 1,278 and 2,716 and get 3,994? Why not acknowledge that over 22 seasons, at the highest levels he could play at, Ichiro is going to get to a big round number that only two other players have reached?
"I honestly think if he had been here from the same time [that he played in Japan], he'd be near the same numbers," Vernon Wells said. "He's not nothing but hit since he's been here."
There's no need to give him Rose's marketing slogan. It's fine to keep calling Pete the "Hit King," especially if it helps him sell a few more autographs.
But let Ichiro have 4,000. There's nothing wrong with that.