Pete Rose on Ichiro chasing the hit record: 'How can he catch me?'
Ichiro Suzuki picked up his 4,000th career hit on Wednesday, but Pete Rose doesn't acknowledge his 1,278 hits in Japan.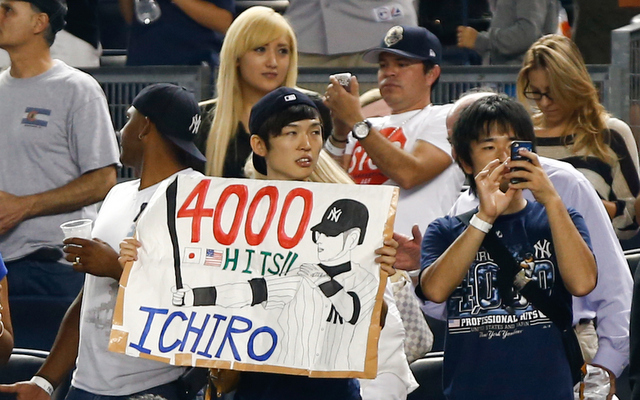 More MLB: Scoreboard | Standings | Probable Pitchers | Sortable Stats | Odds
Yankees outfielder Ichiro Suzuki collected his 4,000th professional hit on Wednesday night, broken down into 2,722 in MLB and 1,278 in Japan. While talking to Bob Nightengale of USA Today, all-time hit king Pete Rose essentially discounted Ichiro's hits in Japan when discussing his record.
"He's still 600 hits away from catching Derek Jeter,'' said Rose to Nightengale, "so how can he catch me?''
Jeter is sitting on 3,308 career hits, by far the most among active players.
"Hey, if we're counting professional hits, then add on my 427 career hits in the minors. I was a professional then, too," added Rose. "If you look at the records, Henry Aaron has 4,000 professional hits. So did Stan Musial.''
Rose's math is right -- both Aaron (4,095) and Musial (4,001) eclipse 4,000 career hits including the minors. Heck, Julio Franco is at 4,232 career hits if you include MLB (2,586), the minors (621), Mexico (316), Japan (286), winter ball (267) and Korea (156). All of those did come as a professional.
"I don't want to take anything away from [Ichiro],'' said Rose, "but does anybody remember making a big deal when Henry Aaron had 755 homers and Sadaharu Oh passed him? Are we now supposed to count Warren Moon's passing yards in the Canadian Football League to his NFL career stats? When you compare yourself to me, Ty Cobb, Tris Speaker and Nap Lajoie, we all did it in the States.
"If people consider [Ichiro] to have the record if he gets to 4,257 hits, I'll come back and play if I'm reinstated," Rose jokes. "I'm sure even at my age I can hit a 15-hopper up the middle and crawl to first base for a hit.''
I can understand why Rose is being defensive about the hit record -- it is his legacy and his life's work. That said, this doesn't have to be an either/or thing, right? The hits in Japan aren't the equivalent of MLB hits, but 4,000 career hits is still a frickin' ton of hits. It's impressive no matter what. I don't think Rose needed to come out and discredit Ichiro's accomplishment. Worry about your record if/when he breaks it, not when he's three years away.