Pete Rose to manage Bridgeport Bluefish on June 16
All-time hit king Pete Rose will manage the independent Bridgeport Bluefish on June 16, the team announced.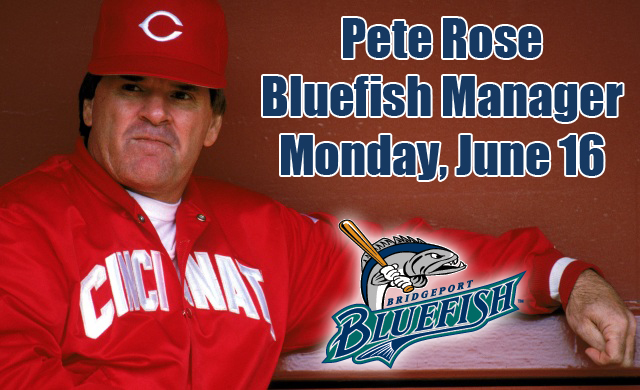 More MLB: Power Rankings | Expert Picks | Latest news & notes | Fantasy news
Pete Rose is returning to the dugout. Baseball's all-time hit king will manage the independent Bridgeport Bluefish for one game on June 16, the team announced. They will be playing the Lancaster Barnstormers at home in The Ballpark at Harbor Yard in Connecticut.
Here's a quote from Rose from the press release:
"I'm doing this because I love baseball," says Rose. "I love young players because they bring you one thing you need in sports – enthusiasm. These young men are here working their butts off. They don't have egos – they are hungry. They run hard and they play hard, all the time. In the late '80's I think thirty-three of my players had their first Major League hit. I'm proud of that. Guys like Chris Sabo, Kurt Stillwell and Eric Davis. I love coaching young players like them."
...
"I will tell each of the players in the clubhouse a few things before the game," added Rose. "I will look at each of them and say that every one of you guys has more ability right now than I did at 18 years old. I was told that I was too slow, didn't have a strong arm, and didn't have power, but I got an opportunity and I worked the rest of it out. I out worked people, out hustled people, and had more determination. You have to prepare yourself right and the rest will take care of itself. You set your mind right and winning will fall into place and there is no better motivation than to win. It's why you play the game – to win. Use this second chance opportunity in this talented league and 'Think Big.'"
Bluefish GM Ken Shepard said Rose's return to managing is "one of the biggest and influential announcements in not only franchise history, but in professional baseball in the last 25 years as well. We encourage everyone to come out to the ballpark on June 16 to experience this special occasion."
Rose is banned from Major League Baseball for his gambling indiscretions, but independent league teams are, well, independent. The MLB ban does not apply. Independent teams are always looking for big promotions and it doesn't get much bigger than this.
Rose, now 73, last managed way back in 1989. He spent parts of six seasons at the helm of the Reds, including the first three as a player-manager. Rose is allowed to attend games but he can not hold a job with an MLB team.
Among the Bluefish players Rose will manage are former big leaguers Tomo Ohka, J.R. Towles, Sean Burroughs, Ramon Castro and Joe Mather.
(h/t @davidjabs7)
The former Tigers teammates were voted into Cooperstown by the 16-person Modern Era Commit...

The Yankees still have room for a good-sized signing even after Saturday's trade with Miam...

St. Louis gets some much needed help for their bullpen
Keep tabs on the top 50 free agents right here

Morrow thrived with the Dodgers last season

Boston needs a power bat, among other things