Pettitte had superb career, but will one blemish keep him out of Hall?
Andy Pettitte is to be applauded for his almost-all-good career. but should he be in Cooperstown?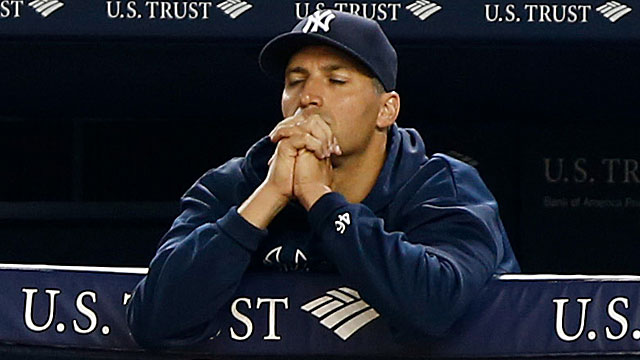 Andy Pettitte had some great moments and a wonderful career, and he has to go down as one of the biggest winners of this era, or any era, really.
Pettitte deserves all the accolades he'll receive Friday when he announces his retirement from baseball at age 40. He's scheduled to pitch two more games for the Yankees, one in each of his "hometowns" (New York and Houston), but for today he has 255 wins, 152 defeats and no losing seasons.
It's an amazing record, with only one notable blemish that has nothing to do with wins and losses.
The left-hander's past is filled with one great big game after another but perhaps the most remarkable thing about his resume is that he pitched 18 seasons and has yet to post one losing one. He's 10-10 this year for a team with an average offense at age 40, and according to people close to him, he's pitching at far less than 100 percent. We first heard about a congenital elbow issue with Pettitte more than a decade ago, and it's amazing it and he have held out this long.
But friends say his arm finally is bothering him. So, with Mariano Rivera retiring and the great Yankees era coming to a close, finally it's a good time to go for good (Pettitte did try retirement once before, but it didn't take).
To keep his seasonal slate clean Pettitte needs to get past two more starts (neatly enough, one at home and one at Houston, which helps) to make it in one way anyway, a perfect career. Eighteen seasons, no losing records.
No other pitcher in recent times has accomplished such a feat, and that can be no surprise. It's nearly impossible not to have one off year, or one year where the breaks aren't with you.
I know wins and winning percentages aren't what they used to be after the stat guys pointed out there are better statistics with which to judge pitchers. But 18 for 18 says something strong about one of the most consistent careers in modern times. Nobody can be that lucky.
Pettitte was consistent and he was a winner, and he should be proud of almost all his career.
He was consistent on the field, and he was consistent in all his dealings.
But with all the record is unveiled, we know by now he wasn't quite as clean and perfect as he would seem. He showed up as an HGH taker in the Mitchell Report after publicly denying he took PEDs.
This looks like a small blip on an otherwise superb career. But we are reminded of it again this week, as he will be deposed in the Brian McNamee lawsuit against Roger Clemens. Pettitte was the third man in this PED triangle, and that can't be forgotten, either.
Pettitte will rightly go down as one of the greatest pitchers in Yankees history. He just set the all-time Yankees strikeout record, which says a lot about how good and consistent he was since he never had a 200-strikeout season and only once came within 20 of that magic figure.
Pettitte never led the league in ERA, WHIP or very likely WAR. He was just very good all the time. And he was best in the playoffs. His record and ERA in his long postseason history are very similar to the regular season numbers, which says a lot. In that way he's very much like Derek Jeter, who was equally as good in the postseason, when a player is presumably facing the best, the best players on the best teams.
Pettitte is 255-152 with a 3.86 ERA in his 18 regular seasons, and he's 19-11 with a 3.81 ERA in all his many postseasons. The winning percentages are close, the ERA ridiculously close.
Pettitte, the all-time postseason victory leader, always had the ability to deliver his best game in the biggest games. Many of them were so good that they were memorable. But the most recalled has to be Game 5 of the 1996 World Series at Atlanta, when he threw 8 1/3 shutout innings and the Yankees prevailed 1-0, taking a lead in a series that seemed lost after two games.
He almost never had a postseason clinker. He did get shelled a couple times, and one of those times came in the 2001 World Series, which seems like the bitterest disappointment of the Yankees' amazing era. Afterward it came out that Pettitte was tipping his pitches. He wouldn't talk about it, of course, but that was a likely cause.
Pettitte will be most remembered as a winner. If you add the postseason wins, that gives him 274 victories in total. Either way, he's firmly in the Hall of Fame conversation, and if not for one mistake, he'd probably get in.
Pettitte was unfailingly professional, consistently pleasant and all-time driven, but he had a flaw. And it might have had something to do with that drive of his.
 When Roger Clemens showed up in pinstripes, Pettitte followed the iconic fellow Texan around, doing what he did and said. And that may have aided Pettitte's pitching career, but it's also quite possible it may have cost him a legitimate chance at Cooperstown. Pettitte's resume looks Hall of Fame worthy, but there's that question about the HGH usage and inclusion in the Mitchell Report.
Clemens, an all-time great, didn't receive nearly enough votes his first time on the ballot last year, and while Pettitte's brush with PEDs appears much less significant, it quite likely will be enough to prevent his inclusion in that hallowed territory. And that is probably fair.
The Nats will host the All-Star Game in 2018

The Orioles are looking to trade Machado heading into his walk year

The Cardinals have been linked for a while to the Baltimore star
Gallardo spent the first eight years of his career in Milwaukee

MLB revenues are at a record high right now, but teams aren't spending it on players

Chicago added Tyler Chatwood earlier this offseason but might not be done adding to the ro...